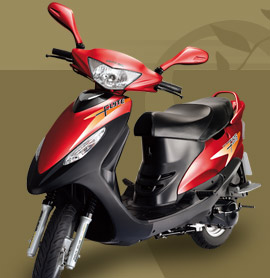 Mahindra Two wheelers, formerly known as Kinetic Two Wheelers, has had enough of Honda's dominance in the gearless scooter market in India. Yesterday we informed you about TVS's ambitious plans to finish Honda, and today, MTW comes to the fore.
Along with change, more or less comes sacrifice. The Kinetic Blaze, which is fitted with a 165cc, 11.5bhp engine sourced from Hyosung, is officially history.
The Blaze was known for its hell-on-earth power and pickup. It's intensity was pumped up by "Catch me if you can" badge on its back, which was blamed for road rage of trailing commuters.
That was not exactly the cause for its extinction. It was its diminishing sales numbers, which Mahindra clearly outlined when it said "no market for the Blaze in India."
MTW will retain most of the 250 dealers who sold Kinetic 2-wheelers. MTW at present sells 3,000 units of the Flyte, which is no match to the 45,000-50,000 Activas sold by Honda.
With the backing of Mahindra's marketing team and new products, perhaps in the near future the Honda dominance will come crumbling down.