With the advent of the MINI brand in India, a whole realm of luxury hatchbacks have India on their minds. Mercedes India has plans to introduce the new A Class in India to rival BMW's Mini.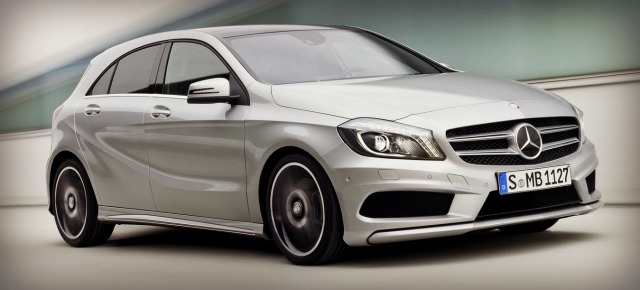 Thanks to AutoExpress, we are able to bring you the complete line of power mills that will propel the new A Class.
The new A Class will be offered in both petrol and diesel options.
Mercedes A-Class petrol lineup

The A180 will come with a 1.6L engine with 120bhp and 200Nm of torque. Mercedes claims the A180 gives 18 kmpl and emits 128g/km.
The same engine will be present in the high-performance version A200. It will generate 154bhp and 250Nm.
The flagship A250 will have a 2.0-litre turbocharged petrol engine with 208bhp and 350Nm. Considering it is a flagship model it will sprint from 0-100 km/hr in 6.6 seconds to a top speed of 240 kmph. This engine will be mated to an all-new seven-speed dual-clutch automatic box. It will offer 16 kmpl.
Mercedes A-Class diesel lineup

The diesel charge will start with a Renault-derived 1.5-litre diesel in the A180 CDI. It will generate 108bhp and 260Nm of torque while churning out 26km/l and 98g/km of CO2 – the lowest of any Mercedes
A200 CDI will use a 1.8-litre that generates 134bhp and 300Nm of torque and gives 23kmpl
The top-of-the-line will be the A220 CDI, featuring a 168bhp 2.1-litre with 350Nm of torque. It can do the 0-100 run in 7.8 seconds.
Mercedes wants to target the young audience with the all new A Class. In India, the A Class will compete against uber luxury hatchbacks such as Fiat 500, Mini and Beetle. Mercedes plans to have as many as four compact cars in India in the next 3-4 years.
[Source: autoexpress.co.uk]