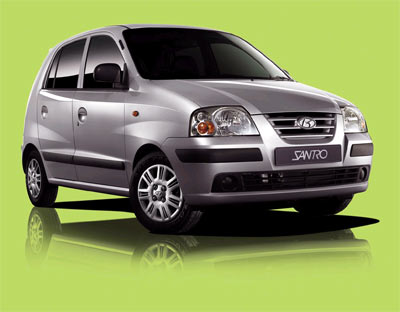 You've got to hand it to Maruti Suzuki. When they say refresh, they mean new headlamps, bumpers and wheels. Take for example the new Estilo - it looks entirely different when viewed head-on.
Unfortunately, the same cannot be said for the new Santro. It looks like a school kid in his art hour was locked into the Santro and asked to decorate it - the silver A.C vent is so much like content in a 4th grader's art book.
Then there's that front grill - Economic times reports "the new Santro has many added features to raise the bar for cars in this segment." The next sentence, it goes on to list the body colored radiator grille!
I have an idea to seriously raise the bar - why not paint the front windshield in body color?
No, we're not trying to pick up a fight, Hyundai. See the gorgeous Hyundai i40/Sonata YF we spoke about this morning - we truly believe this is Hyundai's best looking product till date.
And glance at what the Indian division can come up with - a Santro with a one-of-a-kind body colored radiator grille and silver A.C vents. What was Hyundai thinking when they made this car? Why did they just not leave it with the i10's front seats and rear parcel tray?
Good luck!
Source - Economic Times