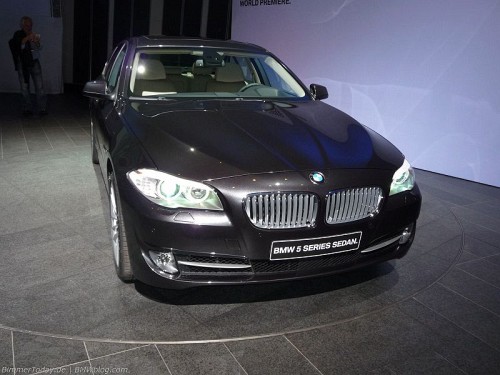 BMW emerged as the leading luxury car brand of India in 2009. This obviously was a set back for Mercedes Benz that for years has been known as the ultimate luxury car brand in India. Mercedes made it clear that their sales were low because of the fact that the E class was getting phased out and customers were waiting for the new E-Class.
Now that India has the new E, the BMW 5 series seems to be in trouble. In the 1st 3 months of 2010 the E class has beaten the 5 & has helped Mercedes stay ahead of BMW.BMW has taken this seriously & has decided to launch the next gen 5 series in India ahead of schedule.
The F10 BMW 5 Series will officially be launched in the Indian Market on the 30TH of April. BMW had originally planned a July launch but considering the circumstances that would have been too late. The new 5 was launched in Europe just a few months back & India is not far behind!
BMW has shipped the CKD kits in record time in order to start assembling the new 5 at its Chennai Plant ahead of schedule. The company will 1st bring the high end variants-535i & 530d & then gradually launch the lower spec variants.
We also expect a formal announcement by the company at the launch regarding the new President of BMW India. Dr. Andreas Schaaf (formerly head of sales & marketing BMW Korea) will replace Peter Kronschnabl who would move to BMW Russia. The new President is suppose to take hold of the company starting May.
The current 5 has huge discounts going for it as the new 5 is just a fortnight away. The Mercedes E class sure has a tough rival gunning for it!
Tech Specs
535i
Engine-2979 cc, twin turbo, direct injection petrol.
Max Power-306 BHP@5800 RPM
Max Torque-40.8kgm @ 1200 RPM.
Transmission-8 Speed Automatic.
530d
Engine-2993 cc diesel.
Max Power-241 BHP@4000 RPM
Transmission-8 speed Automatic.