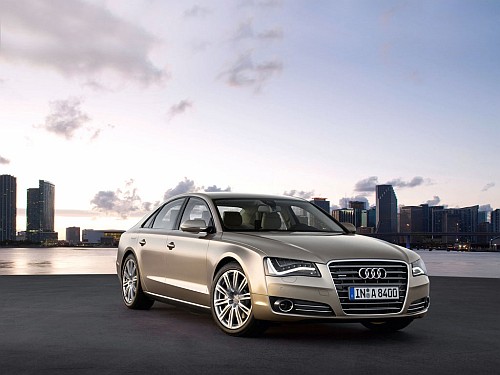 Autocar India reports that Audi will introduce the new A8 in India this diwali. The Audi A8 will be priced in the range of the Mercedes Benz S-Class and BMW 7 Series. The Audi A8 was introduced earlier this year making it the most recent model in its class. In India, since the luxury barge-car customer prefers the comfort of the back seat, the new A8 will be offered in India only in the extended wheelbase form, whose wheelbase is 5 inches longer.
Engine options -
3.0 V6 TDI with 240bhp that's found in the A4 and A6 and Q5.
4.2 V8 TDI with 350bhp found in Q7
4.2 DOHC V8 FSI and W12 engine
All the Audi A8s arriving in India will be equipped with ZF-supplied eight-speed automatic transmission with paddle shifters and Quattro four-wheel drive will be standard. Audi's pre-sense system which activates hazard, pre-tensions seatbelts and rolls up the windows when the brakes are fully applied, is present on this new Audi A8.
Autocar expects the price of the new A8 to be around 73 lakh rupees (ex-showroom Delhi) for the 3.0-liter TDI model.
Source - Autocar India