Is longer by 206 mm than the standard S-Class sedan.
Mercedes-Benz showcased their Mercedes Maybach luxury flagship model at the 2015 Frankfurt Motor Show. The Maybach comes in two trims, the S500 and S600.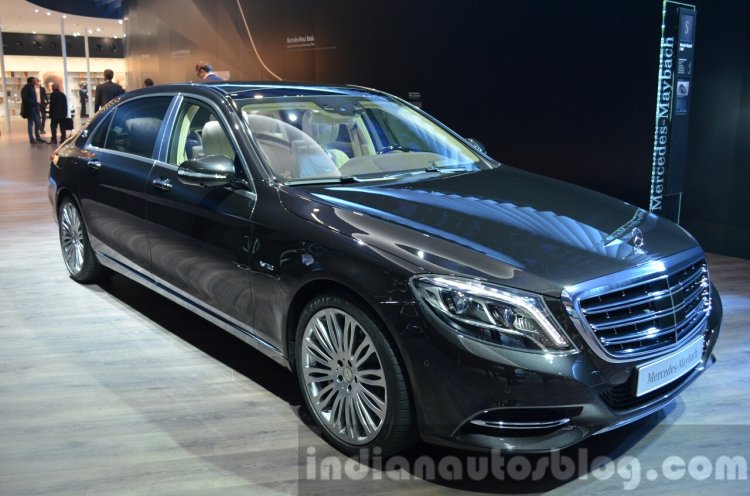 Mercedes has revived the 'Maybach' nameplate and integrated it into the S-Class series. Design wise, the Maybach is similar to the S Class, but has a length of 5,453 mm with a wheelbase of 3,365 mm, which makes it 206 mm longer than the standard S Class luxury sedan. The Maybach S600's exterior is distinguished by several factors such as a revised grille, extended rear doors, new alloy wheels and 'Maybach' lettering on the bootlid and logo on the C-pillars.
The interior is of the highest luxury standards. The individual fine-leather wrapped rear seats have vast legroom and can also recline by 43 degrees. The seats boast of a massage function and also incorporate a "hot-stone massage" function. For the rear passengers, there is even a chilled center armrest and handcrafted champagne flutes. Burmester has provided a 1,540 Watt 24-speaker 3D surround sound system, while the panoramic sliding sunroof enhances the sense of space. The Maybach S600 is powered by a 6.0-liter biturbo V12 engine punching out 530 hp and 830 Nm of torque, mated to a 7-speed dual-clutch transmission. The Maybach S500 is slightly less powerful, nonetheless packs 459 hp and 700 Nm of torque from its 4.7-liter V8 unit. The Maybach S500 and S600 were launched in India last year.