Mercedes Benz India launched the new generation M Class (or ML Class) in Delhi yesterday we have kept our readers updated with plenty of photographs and updates from the launch posted throughout yesterday and this morning. In this final installment, we're presenting pictures and video from the launch floor as well official photographs released by Mercedes Benz India.
[can't see the video above? Head over to the Youtube video page for direct vieweing]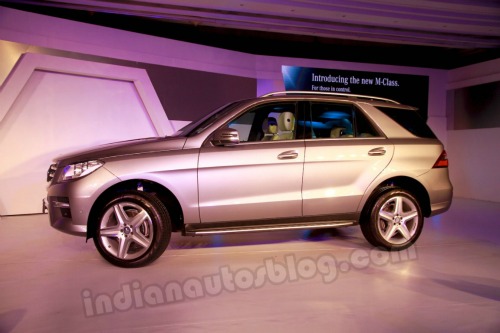 We've also packaged pointers from yesterday's press conference for an overall idea of where Mercedes stands in India today, after the break.
A target customer for M Class in India is a developer from Delhi or Mumbai who has to travel to his sites or place of work in luxury under rough road and weather conditions
There are only 500 units of the model allotted this year for the Indian market
M Class is still CBU and Indian assembly has not been started yet
Last year 770 units of M Class were sold in India
Mercedes started selling the M Class in India three years ago
Compact luxury offerings is part of Mercedes India's next growth phase
The big launch for India this year is the B Class followed by cars like the A Class and a sedan previewed by the Concept Style Coupe in the next two-three years
Last year Mercedes sold around 200 units of GL Class; Assembly of the GL Class will begin next year in India and the company expects the volumes to get better with time
If demand for any CBU model increases Mercedes have a flexible assembly line that helps them take the CKD route
Mercedes says current market scenario and government policies with increased tax structuring making it difficult to draft a formidable future plan for expansion
Mercedes M Class Images from the launch floor
Mercedes M Class Edition 1 Studio shots
Mercedes M Class Studio shots