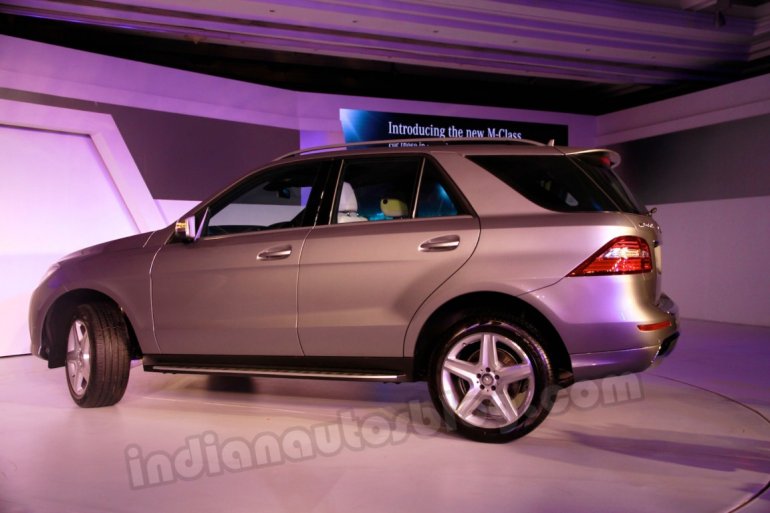 Just yesterday, Mercedes lifted the veil off the new Mercedes M Class and there's good news already! An official from Mercedes India told IndianAutosBlog.com just a handful of the first batch of models (M Class Edition 1) are unsold. Mercedes has brought 100 examples of this special edition to India with AMG body kit, alloys and a high level of equipment.
Having known that the target for the new M Class is 500 bookings in the whole year, that's a pretty remarkable achievement!
The reason has to be Mercedes' strategy of sending vehicles to dealerships weeks before the official launch. Dealers have conducted special previews of the new M-Class to its customers and many have been impressed with its features, performance and styling.
Mercedes wants to bring more models into the market via the CKD route. It already assembles C, E and S Class cars at its Chakan plant. The M Class's assembly will begin in the second half on the year while the GL Class will be assembled about a year from the time of M-Class' start of production.
The automaker believes that it will change the game of the Indian luxury car market by pricing the cars very competitively. The CKD operations help Mercedes avoid the steep import duty.
The automaker has also lined up a slew of launches like the A Class, B Class and the  upcoming BMW X1 rival - Mercedes GLA. All these efforts are keeping one thing in mind – to achieve a profitable growth and regain the top spot of the global luxury market (that it lost to BMW/Audi) by 2020 .