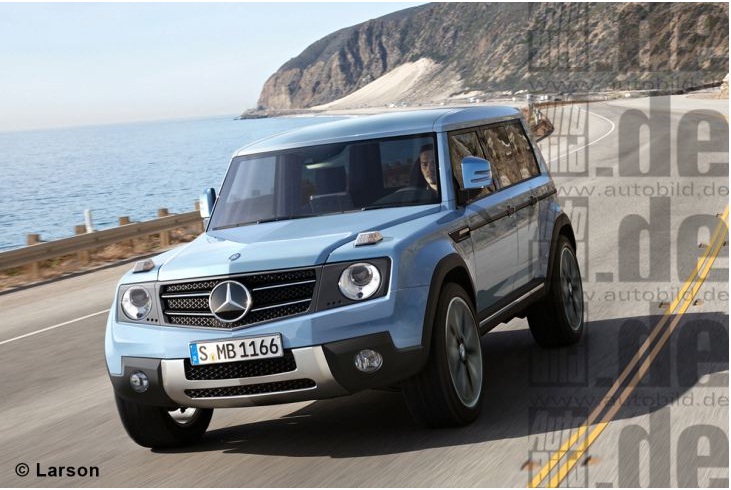 Back in July 2012, we brought you a pleasantly shocking story of Mercedes planning to shrink the G Wagen to make a lifestyle product for a niche market.
Some more details have now trickled in of the Baby G Wagen.
Mercedes has planned a lineup of 10 new models by 2020. The Mini G Wagen would be by far the most creative of the lot. Codenamed X156 and lovingly called 'mini-G', the model will be called GLG Class if and when it hits the production line.
It would sit on the MFA platform which means it is predominately a front-wheel-drive car. The Mercedes GLA, yet another crossover on the MFA platform that lands in India in 2015, will be the cousin sister of the GLG.
Unlike the Mercedes GLA which is a posh, road-biased coupe-crossover, the GLG will be a seemingly ostentatious mudslinging pocket rocket. It will have a more upright roofline and boxy design reminiscent of the old Gelandewagen but in a very modern way. It will have a tailgate mounted spare wheel, boxy taillights integrated in the rear bumper, front wing-top indicators, round headlamps and full-length rubbing strips.
This SUV will be designed to 'look' like a thorough off-roader but will only be able to handle muddy meadows and snowy roads. Mercedes is planning a 4WD model with a 4Matic system that will distribute torque between the axles via a Haldex clutch rather than the three mechanical differential locks of the original G Wagen.
Under the hood, one can expect a 1.6-litre petrol with 122bhp, or a 2.0-litre petrol with either 156bhp or 211bhp. There will also be four diesel engines on offer including a 1.8-litre diesel with 109bhp and a 2.1-litre in differing states of tune - 136bhp, 170bhp, or 204bhp.
Mercedes is also planning an AMG model which will be called the GLG45 AMG. It will have bigger brakes, a seven-speed automatic gearbox, quicker steering and a re-engineered front axle.
But hold your horses as Mercedes has not signed off the project yet. If the project is green lit soon, the earliest possible launch date will be mid-2015.
[Source: Carmagazine.co.uk via AutoBild.de]