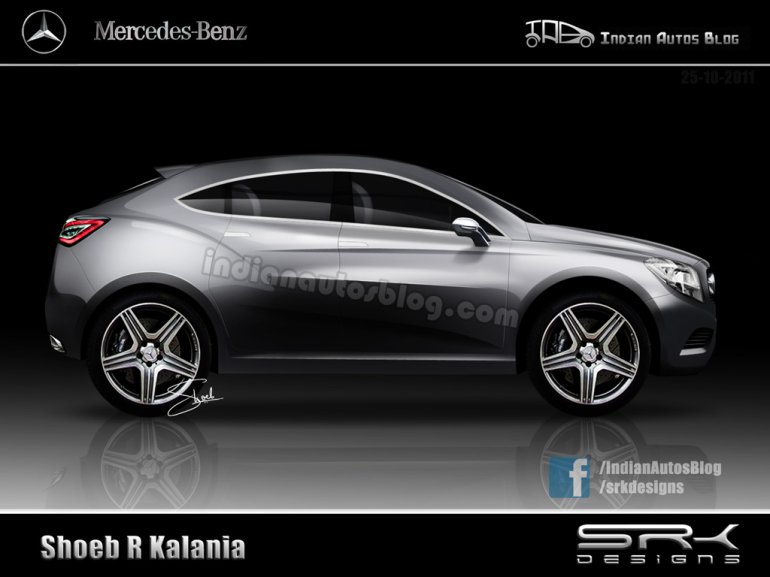 The BMW X1 is a pain in the neck for most luxury brands in the world. It offers so much value for so little price. While BMW X1 established its leadership prowess on this entry level crossover, other German brands had to play catch up in the entry level crossover market. Audi was able to roll out the Q3 without much delay.
However Mercedes is taking its own sweet time to develop its contender to the market. The latest news is that the three pointed star will roll out the crossover by the second half of 2013.
More interestingly, CarMagazine reports that the entry level crossover, formerly known GLC/BLK, has now been renamed again to GLA thanks to the new nomenclature that Mercedes is across its range.
The GLA will share the MFA architecture with the A and B Class models. It will have a length of 4440mm, width of 1800mm, and 1500mm height and a wheelbase of 2700mm offering 500 litres of luggage capacity. It will not be a very imposing looking SUV as it will only be about 110mm longer than the A-Class hatchback. Mercedes might offer it in a 3 door and 5 door formats like how Land Rover did with the Evoque.
A range of four-cylinder direct-injection petrol engines and turbodiesels will be on offer. The engines will be mated to front- or four-wheel drive transmissions.
Looking at the way Mercedes India is losing out to rivals BMW and Audi, expect the GLA to head to Indian shores soon after the international launch. Mercedes Benz may display this car at the 2014 Auto Expo like how BMW India used the 2010 Auto Expo to get last minute feedback from would-be buyers.
However, Mercedes India will launch the B-Class mini MPV in the same price bracket as the BMW X1 as a stop gap arrangement to reduce the bleeding.
[Source: carmagazine.co.uk]