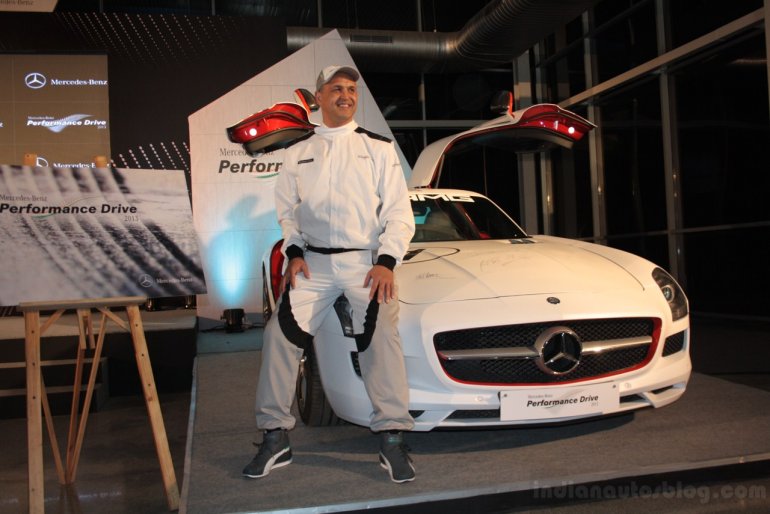 The purpose for the creation of the Mercedes Benz Performance Drive 2013 is to adapt to changing India which demands performance in its luxury cars.
The Performance Drive 2013 is a collection of adventure and racing programs that let you explore your capabilities and your car's. There are 5 modules in all depending on the style of vehicle and driving but not all of them are unheard of.
This is the plan revealed to the media yesterday at MB's assembly plant in Chakan, Pune -
1) AMG Driving Academy (Improved) -
This was launched in 2011 at the Buddh International Circuit. BIC is one of the four race tracks where this program is held every year on four occasions with skilled trainers accompanying participants to teach them how to drive on a track. In 2013, Mercedes is launching the Advanced phase of the program which is open to participants who have cleared the basic level last year. The course costs 75,000 rupees per person for the basic level and 1,00,000 rupees for the advanced level.
2) Star Drive Experience (Improved) -
The Star Drive program was launched in 2010 and in 9 cities, with 11,000 participants experiencing the program in Mercedes sedans and SUV models. The Star Drive program demonstrates basic safety features and four-wheel drive technologies in a simple proving course. In 2013, the program will be held in more locations, stretching out to 21 cities in Tier 2 and Tier 3 regions.
3) Star Off-Road Experience (New) -
This program was launched yesterday morning at the Chakan plant and we were the first to sample it. Its a small off-road track with steep inclines and banked roundabouts that bring to the surface the capability of a Mercedes Benz SUV. Off-roading experts from Austria were the architects of this course, that took 6 months to finish.
Its a very short course and a session here would last not more than half a day with a 40 degree incline and an axle twister. Mercedes offer this to customers as part of the factory experience, which includes a tour around the assembly lines. A session costs 20,000 rupees. Customers car either drive their cars through the challenge or take one of the cars (GL Class, ML Class and G55 AMG) available at the plant.
4) Track Day Experience (New) -
Not much was revealed today on this program. What we understand is this is a corporate-centric program which uses racing as a tool to motivate and promote teamwork among groups. Team building activities are planned over two days which includes qualifying rounds and specific challenges such as cornering, braking and slalom.
5) International Driving Experience (New to India) -
There are three experiences under this module - an off-roading module where customers are taken to Graz, Austria and extreme off-roading courses put the G Class out of its comfort zone (the footage suggests this strongly). Second is the Winter Driving Training in Sweden, close to the Artic Circle that's priced at 3.1 lakh rupees and finally the 'Journey To the roof of the world' which is a 47 day, 8 country, Poland to India 17,000 kilometer journey that can be yours for 19 lakh rupees.
6) Young Star Driver Program (New to India) -
This is a talent hunt launched by Mercedes Benz India and backed by FMSCI (Federation of Motor Sports Club of India) with the ambition to find the next Formula 1 driver. Individuals in the age group of 15-25 years are eligible to participate. The applications are available online. Out of all the entries, 12 entries will be shortlisted by FMSCI and these race car drivers will be trained professionally in different stages and allowed to drive a track-honed SLS AMG in Europe as the final frontier.
[For details, schedules, and prices head over to www.MercedesBenzPerformanceDrive.in]