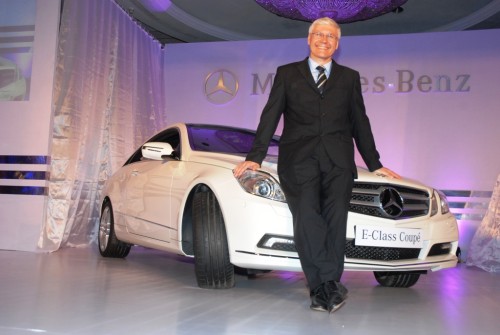 The Mercedes E-Class Coupe lacks mass appeal but appeals to us!
Mercedes-Benz has launched the stunning new E-class coupe in India. Showcased at the Auto Expo in January, the car is powered by the same 3.5-litre V6 petrol as the saloon version.
The Mercedes E-class Coupe is priced at Rs 54.83 56.38 lakh (ex-showroom, Mumbai).
Update - Press release added after the break
Pictures courtesy - Motorbeam
Press Release
Mercedes re-defines "Pure Attraction" with launch of the New E-Class Coupé in India

* The new E-Class Coupé has won critics and fans globally because of its stunning design (Declared as the "Most Good Looking Coupé" by Chicago Athenaeum - Museum of Architecture and Design; received "The Good Design Award" by Auto Bilt, Germany). A long bonnet, sleek side flanks, crisp rear and lack of B-pillar contributes to the athletic looks of the debutante. The E-Class relation is interpreted through the twin-headlamp face, V-shaped front end and overall design language
* The E-Class Coupé is the most aerodynamic series production car in the world with a drag coefficient of 0.24 only. It comes with an aggressive price tag of Rs. 56.38 lakh onwards (Ex-showroom Mumbai)

Mumbai – Mercedes-Benz India today brought in a whole new meaning to attraction & luxury in the premium automobiles segment by unveiling the new Mercedes E-Class Coupé. Aggressive, Sporty & Exclusive, the E-Class Coupé inspires awe, attraction & allure. The distinctive lines and sleek edges lend it an aura of irresistible charm. Within this two-door beauty lies the unmatched performance, safety and comfort features of the legendary E-Class.

Dr. Wilfried Aulbur, Managing Director and CEO of Mercedes-Benz India: "The E-Class Coupé makes an unambiguous statement about a lifestyle characterized by beauty and sophistication. With its expressive styling, premium equipment, state-of-the-art technology and high safety standards, the New E- Coupé meets the needs of young individuals looking for a car that is athletic, striking and passionate. The vehicle rounds off the automotive product range and targets a clientele for whom style and individuality is of significant importance".

Design which expresses passion and effortless superiority

With its classic coupé side aspect, reflected by no B-pillars and fully retractable side windows – the new two-door car is a particularly sporty interpretation of the E-Class' dynamic design. The hallmark of Mercedes Coupé design is its sports radiator grille with the large central star. The arrow shape of the entire front section coupled with its lean build give the car a sportier and more dynamic presence.

High standards of ride comfort

The E-Class Coupé takes on a pioneering role in the drive and performance category. The new petrol engine combines efficiency and effortless power delivery with its 3.5 litre engine V6 engine offering 272hp at 6000rpm. With a drag coefficient of just 0.24, this is the world's most aerodynamically efficient series-production car.

Most comprehensive array of safety features in this vehicle category

The new E-Coupé offers all the technical innovations of the new E-Class series that one might expect to find in a sports-oriented luxury coupé.

The product features new trendsetting technologies – like ATTENTION ASSIST (drowsiness detection system), selective damper control, preventive occupant protection Adaptive Main Beam Assist, PRE-SAFE® technology and Intelligent Lighting System all of which together make the E- Coupé a "thinking" partner. These features can not only see, feel, and respond to dangers by means of its "reflexes," but also act independently to prevent accidents or minimize their effects. With such advanced technical developments and E-Class Coupé specific features (like keyless go, panaromic sunroof to name a few), this car further consolidates the leading position of Mercedes-Benz in the luxury class with unique trailblazing innovations for safe and sporty driving, available with no other manufacturer.

Priced at Rs. 54.83 Lakhs (Ex-Showroom Mumbai), the new E- Coupé will be retailed through Mercedes-Benz Dealerships across the country.
Technical Specifications E-Class Coupé E 350
Combustion process Petrol
Drive type Rear-wheel drive with ESP®
Number of cylinders / arrangement V 6
Displacement (cc) 3498
Rated output (kW/hp @ rpm) 200 / 272 @ 6000
Rated torque (Nm @ rpm) 350 @ 2400-5000
Compression Ratio 10.7 : 1
Chassis
Suspensions DIRECT CONTROL suspension with selective damping system
Brakes: Front & Rear Mechanical-hydraulic, dual circuit with ABS
Steering DIRECT CONTROL speed sensitive steering (hydraulic)
Transmission
7G-TRONIC Transmission with touch-shift

Gearshift on steering Wheel

Electric Drive Position Select

Dimensions & Wheels E-Class Coupé E 350
L x W x H (mm) 4868 x 2071 x 1471
Wheelbase (mm) 2874
Permissible Gross vehicle weight 2260