Earlier today Mercedes Benz India confirmed that the national launch of the G63 AMG will be conducted in Mumbai on the 19th of February.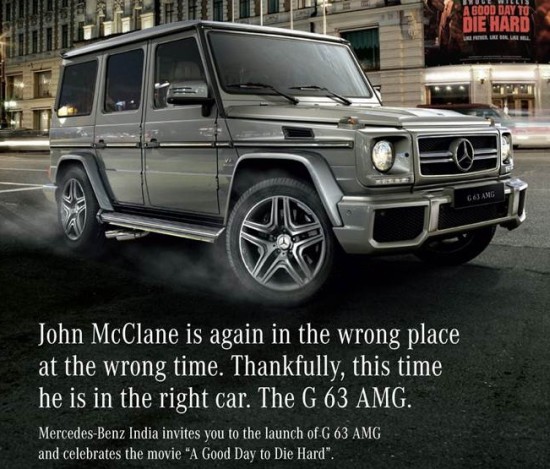 The G63 is brought to India as an import and sold as the flagship SUV of the Mercedes range. Mercedes does not officially sell the regular G Class variants in India, though it can be ordered specially, like any vehicle in Mercedes' international stable.
Based on the iconic G Wagen that's been around since 1979, the G63 AMG is powered by a mental twin-turbo 5.5-liter engine producing 536 hp and 760 Nm of torque, a boost of 36 hp and 60 Nm over the G55 AMG that it replaces. The V8 is happily married to a seven-speed AMG Speedshift Plus 7G-TRONIC transmission. The duo propels the old army jeep from 0-100 km/h in 5.4 secs. The electronically locked top speed stands at 210kph.
In spite of boasting extra oomph under the bonnet, the new vehicle manages to do better in the fuel economy front. With help from a start-stop motor, the fuel consumption figure stands at an improved 13.8L/100km.
The cosmetic changes to the car include a new front bumper, a redesigned grille, a revised suspension and newly designed exhaust. 20 inch alloy wheels are bolted to axles that host brake discs measuring 375 x 36mm at the front and 330 x 20mm at the rear.
Renovations to the old cabin include the use of material that's of better quality and upgraded electronics.
Expect the G63 AMG to retail at 1.25 crore rupees or more.