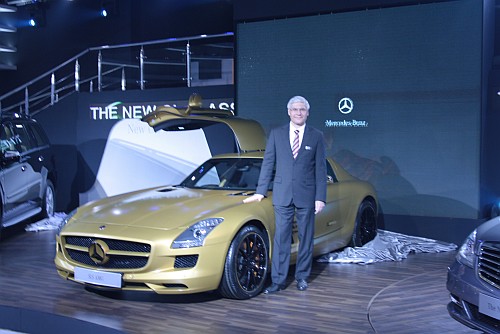 Dr.Wilfried Aulbur poses with the Mercedes Benz SLS AMG Desert Gold at Auto Expo
India might be a developing country, but its developing pretty rapidly both in terms of knowledge of supercars and wealth. Here's proof -
Mercedes Benz has said it found a buyer in Rajasthan for the 2-crore rupee SLS AMG model which it showcased at the Auto Expo earlier this month. The SLS, which comes only as a left-hand-drive model, will soon be manufactured so that people driving on the wrong side of the road can also buy one.
The SLS was developed by AMG, Mercedes Benz' performance division as a spiritual successor to the 300SL. When I asked Dr.Wilfried Aulbur (Managing Director & CEO, Mercedes-Benz India) during the launch of the new Mercedes E-Class if he's contemplating on bringing it here back in September last year, he said "let's see."
It was a random thought. I didn't have anything else to ask him. I read that day in one of the websites that Ferrari and Maserati are planning an assault in India. I thought the SLS could be a possible alternative.
When I met him again at the launch of the S500 L and GL-Class on the first week of January, he revealed to me the SLS will be on display during the Auto Expo, which would begin the following day and soon be on the market.
Maybe the whole idea of bringing the supercar was triggered off by my question? Dr.Aulbur certainly thinks so (and with a smile) though he did not grant me permission to drive one around for a day.
Call it coincidence, foresight or craziness.
Source - Financial Chronicle