Daimler AG has showcased its latest F1-derived creation, the Mercedes-AMG Project ONE at the 2017 Frankfurt Motor Show. Here are the concept hypercar's live images from the show.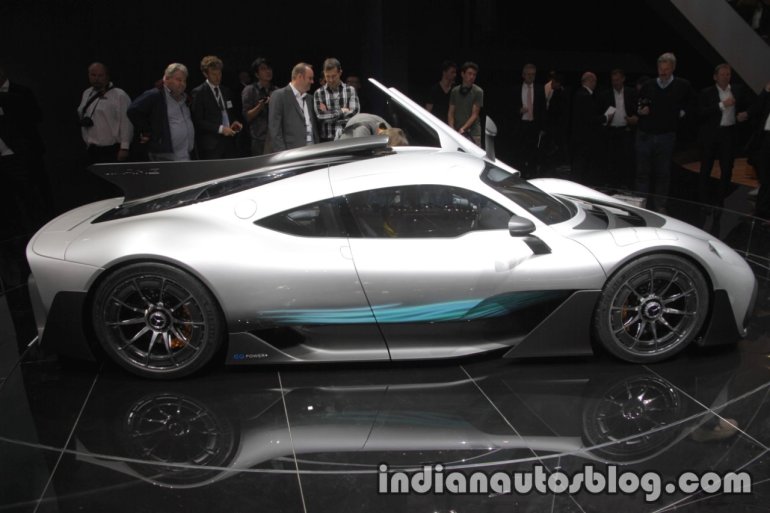 The basic silhouette of the car evokes a combination of sensuality and athleticism. The front apron features the various air inlets which extend across the entire vehicle width. The black air outlets in the bonnet guide the hot airflow around the sides of the driver compartment. This also allows fresh air to flow into the F1-derived intake tract on the roof. The automatically extending front splitter and the active ventilation louvres in the front wheel arches provide downforce at the front axle. The headlamps are LED.
Also Read: Mercedes GLC Celebration Edition – In 7 Live Images
The roof intake transitions at the rear into a shark fin which improves lateral stability when cornering at high speed. Two large NACA (National Advisory Committee for Aeronautics) air inlets ensure optimum guidance of the airflow for the engine and transmission oil coolers located at the rear end. The rear features a vertical spoiler lip; a two-section diffuser with a central exhaust tailpipe; and two-stage extendable aerofoil.
Swing the carbon-fibre door upwards, and you will be invited to a minimalistic no-nonsense cabin. There are room for two occupants, with two 10-inch displays and an F1-style rectangular multifunction steering wheel. The displays feature COMAND infotainment system for optimum connectivity.
Also Read: IAB reader spots the next-gen 2018 Mercedes A Class in Dubai
The powertrain of this car is a plug-in hybrid drive system. The 1.6-litre V6 hybrid petrol engine with electrically assisted single turbocharging comes directly from the Mercedes-AMG's F1 car. The engine drives the rear wheels and can churn out 679.8 PS of power. Two 163 PS electric motors drive the front wheels, resulting in a combined output of over 1,000 PS of power!
A 122 PS electric motor drives the electric turbocharger, resulting in complete elimination of turbo lag. The powerplant pairs with an all-new Automated AMG SPEEDSHIFT 8-speed manual transmission. The car hits 0-200 kmph in less than 6 seconds, and has a top speed of over 350 kmph. It gets a 25 km electric range as well, thanks to the EQ Power+ drive system with 800-volt lithium ion batteries.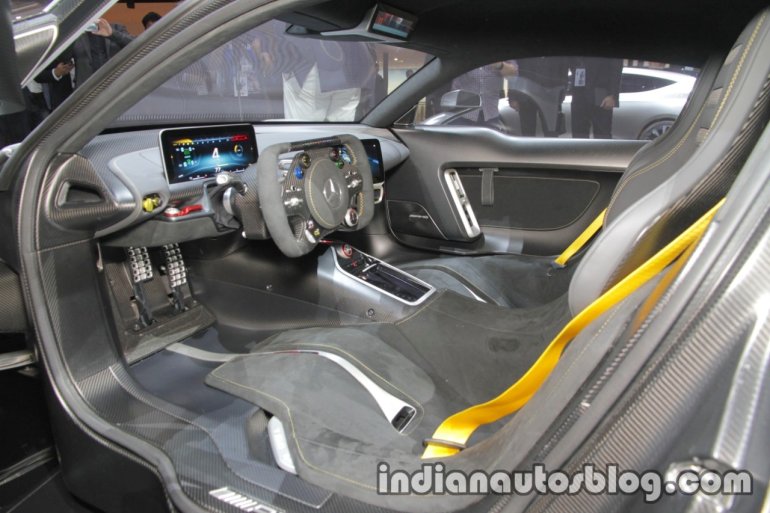 For enhanced handling, the Mercedes-AMG Project ONE features multi-link pushrod suspension, all-wheel drive and torque vectoring, standard ABS with a three-stage ESP. The brakes are regenerative and can recover up to 80 percent of the braking energy under normal driving conditions.