We were the first in India to report the existence of the rebadged Ertiga in the form of the Mazda VX-1. The birth of this MPV is a strategic move in the Mazda-Suzuki joint venture for the van-adoring Indonesian market.
Badge engineering is not something new to Indonesia in the family van segment. For instance, the Toyota Avanza and its rebadged cousin, the Daihatsu Xenia, are topping the Indonesian sales charts despite sporting almost the same body panels.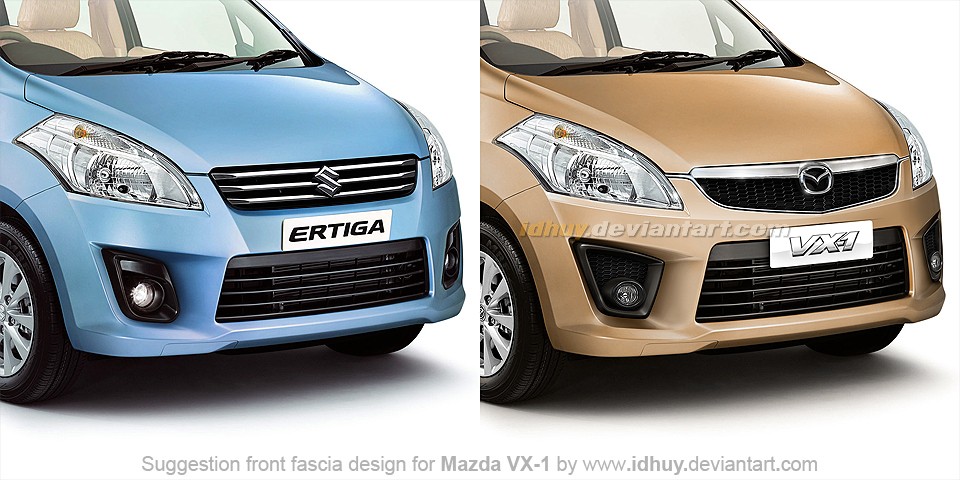 President and CEO of Mazda, Takashi Yamanouchi, has announced the alliance between Mazda and Suzuki in Japan during a corporate event late last month. Mazda Indonesia doesn't have a compact MPV offering in its portfolio, so naturally the decision to badge engineer Suzuki Ertiga has come up.
The Mazda VX-1 will be assembled alongside the Suzuki Ertiga at Suzuki's Indonesian plant. In case you don't remember, the CKD kits are supplied by Maruti from India and shipped to Indonesia.
The compact MPV is expected to carry the existing features of the Ertiga. The similarity is very likely to extend to its mechanical aspects.
[The Toyota Avanza (left) and the Daihatsu Xenia (right) are only a few badges apart from each other]
The VX-1 would then be propelled by the 1.4 litre K-Series four cylinder DOHC petrol engine equipped with VVT technology which produces 95PS at 6,000 rpm along with a peak torque of 130Nm at 4,000rpm. By default, it is paired to a five speed manual gearbox.
Recently, the automatic version of Ertiga was launched in Indonesia carrying a four speed unit. The same technology maybe applied on the Mazda VX-1 from the time of launch.
The launch the Mazda VX-1 is expected to unfold in the next few days.
[Image source: Indian Autos Blog reader Idhuy from Indonesia; News source: Id.carmall.com]