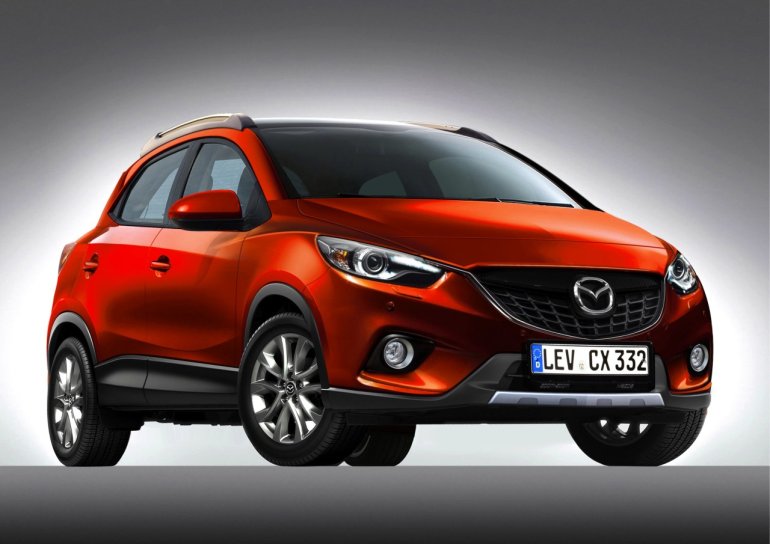 CarAdvice.com.au have laid down new details on the upcoming Mazda CX-3 mini SUV, construed by the media as a sister car to the Ford EcoSport. The smallest Mazda SUV will launch with several ingenious features.
The baby SUV is a jacked-up version of the next-generation Mazda2 city car and bodied with new panels. The next generation Mazda2 is being groomed for a 2015 launch with an "appropriate" share of development cost coming from Toyota.
Toyota will rebadge the new 2 for the North American market to fill the empty slot below the Yaris.
There is no clear info on the platform yet. Mazda could use the current generation Mazda 2 platform, the Ford B3 platform - the same carriage as the Ford EcoSport - on the next generation model to save cost. Whichever route Mazda takes, the CX-3 and Mazda2 will use a FWD layout.
The CX-3 will come with Mazda's new family look. The face features a five-point grille connected to the head lamps using a shaped chrome bar. Skyactiv technologies that lead to weight savings and improved fuel economy will complement the engine and gearbox of the CX-3.
Mazda is developing a new compact Skyactiv engine, a 1.3-litre turbo petrol, to go into future products. A 1.6-liter turbo-diesel is also in the works to achieve the best economy figures for the CX-3. Some of these drivetrains could be shared with the next gen Mazda3 as well.
Another innovation (for this segment) pointed out by the report is a one-touch electrically operated rear seat folding mechanism.
The price is expected to kick off at the AUD 20,000 mark (11.3 lakh rupees), the Car Advice report adds.
[Source - CarAdvice.com.au]