Fatal injuries reported for front seat occupant and driver. 
Global NCAP (New Car Assessment Program), which crash tested many made-in-India cars like the Tata Nano, Hyundai i10, Ford Figo and VW Polo last year, have now tested the India-made Maruti Swift and Datsun Go hatchbacks. The results certainly come as a shock.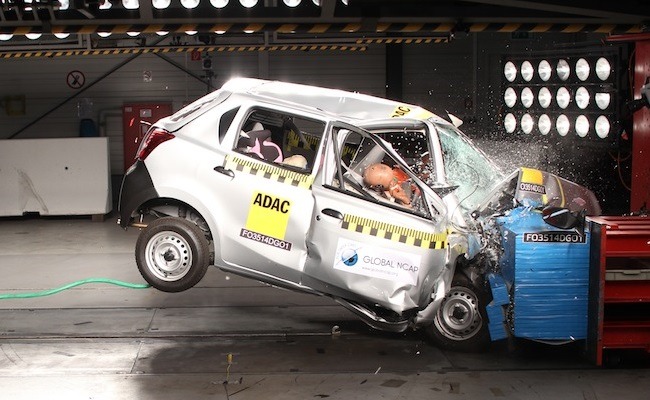 Both cars failed the crash test with a score of 0/5 stars. The cars, amongst India's most affordable, were tested for a frontal impact with a barrier at a 40 percent offset at a speed of 64 km/h. According to Global NCAP, this replicates the speed and area where most accidents/fatalities take place.
In the case of the Datsun Go, whose top-end variant is devoid of ABS and airbags, testers note that the "car's body shell disintegrated severely". The car received 0/5 stars even before it was crashed as it lacked ABS and airbags. The driver and passenger dummies sustained fatal injuries to the head, torso and legs, the report surmises.
Global NCAP tested two variants of the India-made Swift: One that is exported from India to Latin America (which gets ABS and airbags as standard) and one that is sold in India as the Swift LXi (without airbags or ABS).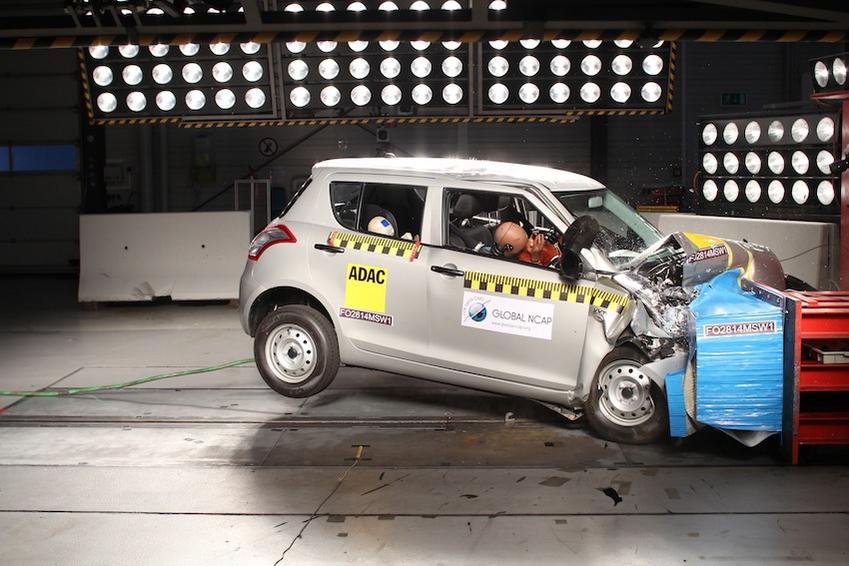 Like the Go, the Swift LXi received 0/5 stars even before the test began owing to lack of safety equipment. The Swift with airbags fared better, with a 3/5 rating.
However, in case of both models which are made in India, testers note that the cars' structural integrity was unstable, which is contrasting to the Swift sold in Europe (manufactured in Hungary) which offers a sturdier structure. The European Swift has also been awarded 5/5 stars by the Euro NCAP, making it a far superior car from the perspective of safety.
Also read: 2015 Toyota Etios and Liva get dual front airbags standard across the range
The report reads that the crash test dummies in the India-made Swifts sustained near-fatal injuries, especially the driver.
[Source - NDTV]