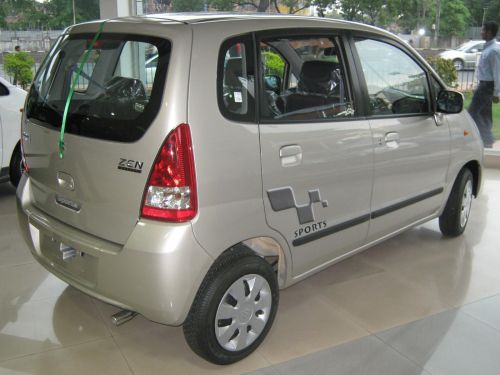 The Zen Estilo under no circumstances took off, apart from selling in satisfactory numbers through those few post-launch months. It was over shadowed not by competing cars, but by the successful cars with which it shared its display area. The Wagon R, Swift and even the Dzire now have been massive hits, which makes the Estilo the black sheep. The Estilo may have been a bit more popular only if Maruti could have taken off the Zen sticker on it. It's handling, steering and ride was nothing in comparison to the earlier Zen, and after one point, it turned out to be evident that Maruti had dug its own grave as the Estilo's sales chart wore a gloomy look.
The so called "Sports" version is a definition-killer. Nothing can we find in this car which has a  "sporty" touch or charateristic to it. As a matter of fact, don't even bother visiting the showroom as it is an utter waste of time. Can't agree? Let us explain why.
For starters, there are no changes at all except for some 'Sports' sticker on the rear door panels and the hatch. The so called 'Sports' version costs Rs 4,16,266 (OTR Chennai) which is six thousand bucks expensive than the top of the line VXi (non-ABS) and the only considerable upgrade you get is the integrated dual din Kenwood stereo. You additionally get some bits of garnish in the form of one or two stickers, special 'Sport' black seat fabric (So Maruti, does the normal version get beige ones?), silver paint encircling AC vents, chrome muffler tip and black color defunct looking interiors.
It retains the same 1.1-liter engine which is reasonably fuel efficient and the entire vehicle is the same, which is the problem. For once, it is very cramped and the overall quality is from the 1990's (the Estilo is the MR Wagon from the 1990's) and when you come to know that it shares space with cars like the Swift, SX4 which is a big disgrace.
The modest fact is that the Estilo does need some upgrades like a better engine, transmission, better looking interiors which are near impossible for a car so early in its lifecycle. The reason we think the Estilo has got such upgrades is because it might in all possibility be in for an early exit/replacement apart from the fact that the buzz of "sports" will echo across India during the festive season. We plead Maruti to bury this wounded warrior and bring in an all new Zen which will stay close to the old one's character.