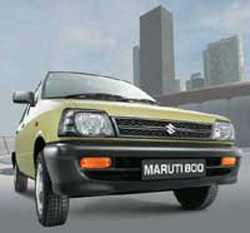 Maruti Suzuki has announced the launch of its new Maruti 800 avatar called the M800 – uniq a special edition of the M800, the car that made heads turn when you own a M800 in the 80's. The Limited edition M800 uniq would be the final gasp that many people considered that this car would never survive for so many years, and so many newer models. M800 has not been in the thick of sales for quite sometime and has seen its sales figure shrinking and market share being eaten up by not only Maruti's own model Alto but also others like Spark of General Motors.
As a result, what does the all new 'uniq' have for us?
The new features are - new body graphics, beige upholstery, door trims with fabric patch, smart lower console box, rear package tray, and dome decals here and there. No non-AC cars, all Uniq 800s will be air-conditioned and all these at an extra INR 5,200 from the existing M800 standard A/C version. The price would be Rs 2,11,176 (ex-showroom Delhi). The car would be available from August 4th across all Maruti showrooms in India.
Launched 25 years ago, the M800 has sold over 25,00,000 units until today. Besides, the company has exported over 183,000 units of the model. However, The M800 saw sales going down 7.4 in the first quarter of this fiscal at 16,649 units against 17,994 units in the same period last fiscal. The model's sales fell 12.2% in the domestic market last fiscal even as total car industry sales grew 11.7%.
With easy finance options these days anyone who had decided to buy an Alto would step back now and buy an 800 Uniq. That is not what Maruti Suzuki is seeking either.
Mind you, the Maruti 800 after all these years, it is still a practical little car in the small towns and villages. It is extremely reliable, service and repairs are dirt-cheap, and if all you need is point-to-point transportation, it really is a practical choice. For people like this who feel alto is a bit expensive would be tempted to buy the M800 'Uniq'. A little push!
[ratings]