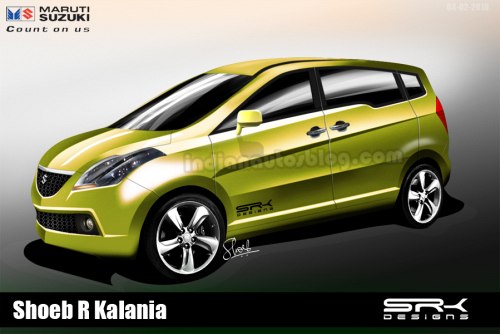 Maruti Suzuki India Limited (MSIL) is planning to launch the RIII MPV in the Indian market sometime in 2012. The RIII which was first showcased as a concept at the 2010 Auto Expo in January in Delhi, is a seven seater MPV, which will be based on a stretched SX4 platform.
Maruti Suzuki has not yet revealed any of the engines that will be used to power the RIII, since Maruti currently does not have an engine which is powerful enough to pull the  seven seater MPV in its inventory. But Maruti may source engines from Volkswagen, given that the German manufacturer now owns a majority stake in Suzuki and that the German manufacturer has a wide range of powerful diesel engines for Maruti to choose from.
Mayank Pareek, Executive Officer, Marketing and Sales, Maruti Suzuki -
We don't show a concept car unless we plan to produce it at some time. The A-star quite resembles its concept shown last time. Typically, the RIII concept should take around two-and-a-half years to come into production, depending upon the interest we see in the model
According to sources, Maruti has already sent a request to its vendors for the RIII MPV, and since Maruti is also considering export of the RIII to international markets, Maruti has quoted high volumes to its vendors. The Latin American and East European markets are among the primary export targets for this car form Maruti.
Pricing is key to the RIII's success in the Indian market and since it is a Maruti it is expected to be competitively priced. If the RIII is priced near or around the Mahindra Xylo or the Toyota Innova, the chances of it being another huge success for Maruti are very high.
Maruti Suzuki will initially manufacture the RIII at its Gurgaon plant before shifting the production to its Manesar unit once it has expanded the production capacity there.
Though Maruti is counting big time on the RIII for exports, most of the production will be concentrated mainly in India, with only fully built units or knocked down kits being exported to other markets.
Source - Carazoo