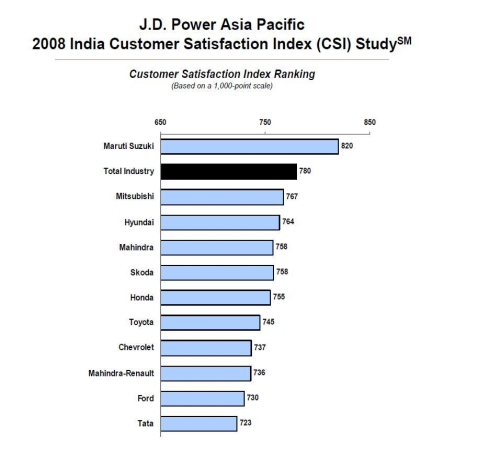 For a ninth consecutive year, Maruti Suzuki ranks highest in customer satisfaction with authorized dealer service in India, according to the J.D. Power Asia Pacific 2008 India Customer Service Index (CSI) Study.This study measures satisfaction among vehicle owners during the first 12 to 18 months of ownership - warranty period. Seven factors are considered to determine the quotient of satisfaction (listed in order of importance): problems experienced; service quality; user-friendly service; service advisor; service initiation; service delivery; and in-service experience.
Maruti Suzuki achieved an overall CSI score of 820 on a 1,000-point scale. While ranking below the industry average, Tata and Mahindra emerge as the most improved brands, respectively, particularly in the areas of service initiation, quality of service advisors and in-service experience.
"Maruti Suzuki has effectively implemented simple procedures that improve satisfaction with the value of work performed and perceptions of the fairness and honesty of the dealer, such as greeting service customers quickly upon arrival and fully explaining charges and repairs," said Mohit Arora, senior director at J.D. Power Asia Pacific, Singapore. "Instituting these low-effort, yet high-impact practices helps to foster trust among customers, which is critical to building loyalty for future service and sales opportunities."
Responses from more than 5,594 owners of nearly 41 different vehicle models helped formulate the 2008 India Customer Satisfaction Index (CSI). The study was fielded from May to August 2008 and includes customers who purchased their vehicles between November 2006 and August 2007.
Source: Indiainfoline