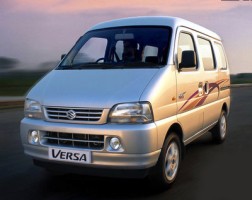 Maruti Suzuki's existing multi utility vehicle Versa, after a decade of faultering existence, will be phased out for its successor O2 to take charge.
The name of the product has not been disclosed, but a company official said the car will be launched around Diwali, at a price of a little over Rs 4 lakh. The new vehicle will use the Versa's architecture, and that advantage will translate into a lower ex-showroom price.
The MUV market is dominated by experienced players, mostly with multiple products like Mahindra & Mahindra, Tata Motors and Toyota.
To make inroads into the MPV/MUV segment and take on the Xylo or the Innova, Maruti has to offer a vehicle that looks and performs solidly. Both the competitors sell diesel variants and Maruti, as we know, is more of a petrol engine offerer.
The 1.3-liter Multijet engine which Maruti has license to, would not be suitable for application on a bigger vehicle. A higher capacity diesel is certainly the requirement and we will have to see if Maruti brings in the 1.6-liter Multijet engine for the o2.
Source - DNA India