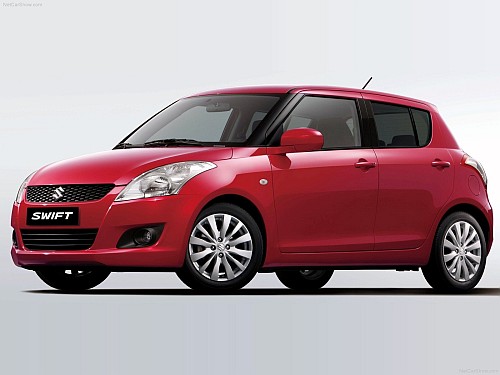 The next generation Suzuki Swift has recently been unveiled in Hungary and it doesn't drastically look different from its predecessor though the interiors, mechanicals and  the bodyshell have been thoroughly revised.
The new Swift is longer by 90mm and the wheelbase has been stretched by 50mm. Suzuki has also worked on making the rear more comfortable than the current Swift. The new Swift would retain the 1.2l KB series engine.
Maruti Suzuki would soon bring the 2011 Suzuki Swift to India. But would the new Swift replace or sell alongside the current Swift? Maruti has hinted that the next gen Swift might replace its predecessor.
Excerpts from IAB's exclusive interview with Shashank Srivatsava, Chief General Manger, Sales and Marketing during the Suzuki Swift "Record of Records" event at the MMSC, Chennai -
Shrawan: My penultimate  question is regarding the next the next generation Swift. Do you think the next generation Swift, which isn't far away, is going to evolve as a bigger car? How do you see the evolution happening? Do you think the new Swift would be bigger and more powerful and still have the same traits it has now which the customers love?
Shashank Srivatsava: I think there is a market for both type of cars (small hatches and big hatches). But the trend is usually going towards larger cars. In India, 45% of the first time buyers prefer small cars, less powerful, more fuel efficient, reliable cars is a very important segment. For a long time to come, it is going to be the small car market for us.
Shrawan: So, are you indirectly hinting if the future Swift does come, it will co-exist with the existing Swift?
Shashank Srivatsava: I would not be able comment on the future Swift. But in any upgradation, I am not sure whether the original and the new one would co-exist, generally that would not pertain.
Maruti Suzuki India has always been selling multiple generations of cars alongside each other, like the Maruti 800, Alto and A-star. Maruti for once might break away from its traditions by replacing the Swift with its next generation model. As the next gen Swift is very similar to the current Swift, this would create a uncertainty and confusion among buyers if both the cars co-exist.