We always thought Maruti Suzuki would be the last car maker in India to sell its diesel cars at a discount. But finally it has happened, thanks to the slowdown!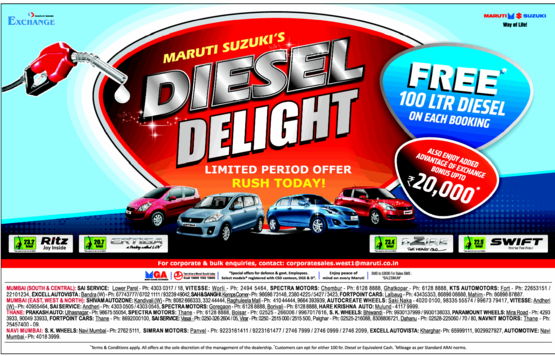 The slump in the auto industry has affected even the largest car maker in India. Maruti is offering a sizable discount on its popular diesel models. The offer covers the Ritz, Swift, Swift Dzire and Ertiga.
Maruti offers 100 litres of fuel with every booking, apart from an exchange bonus of Rs. 20,000, bringing the overall discount to Rs. 25,000. However it is yet to be ascertained whether it is a dealer level offer or it is directly from Maruti themselves.
It is quite surprising that there are discounts on the 1.3 MultiJet powered Marutis, but that is what a slowdown can do to you. The offer stands valid only till May 24th.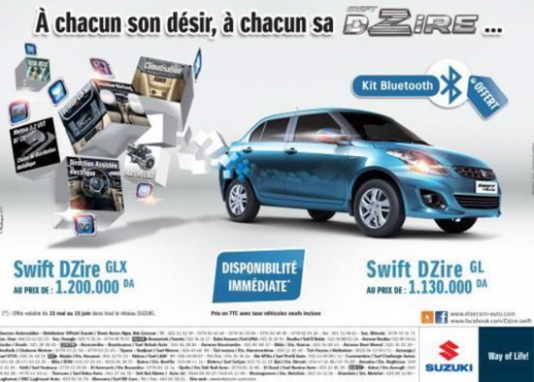 Things are not great in the export markets either. Suzuki dishes out hefty discounts on three of its Made-in-India cars in Algeria. The recently launched Maruti Alto 800 sheds 31,000 Algerian dinar (around Rs. 21,400) off its price tag while certain variants of the A-Star (called as Celerio in Algeria) and Swift Dzire come with a discount of 90,000 Algerian dinars (around Rs. 62,000).
Post discount, the Alto 800 costs 599,000 dinars (around Rs. 4.12 lakhs), the A-Star retails at 940,000 dinars (around Rs. 6.47 lakhs) and the Swift Dzire has a price tag of 1.13 million dinars (around Rs. 7.78 lakhs).
Has Maruti Suzuki slowly started loosing the grip of its forte?
[Source: Oncars.in & Auto-utilitaire.com]