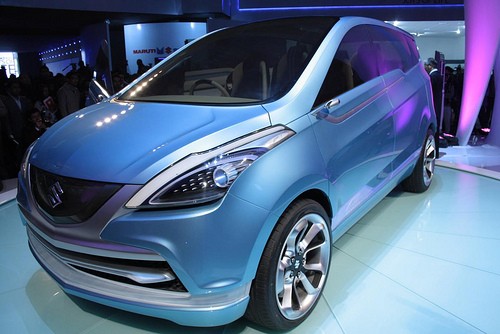 Maruti Suzuki, according to multiple reports, has decided to build the R3 MPV, shown as a concept at the Auto Expo in January this year. India's largest car manufacturer found little success with its first MPV "Versa." The re-engineered "Maruti Eeco" introduced earlier this year at almost a fraction of the Versa's cost has got of to a very brisk start.
Encouraged by the success, Maruti will compete with the likes of the mini Xylo, Chevrolet's Wuling vans and the junior Innova when it comes out next year. Based on the elongated SX4 platform, naturally it will share many vital components which should lower costs and development time.
Now the interesting bit is the R3 could come with VW's diesel engines. For cars like the Swift and Ritz, Maruti uses the Fiat 1.3-Multi-jet engine. Due to unavailability of extra engines at the manufacturing site, Suzuki could use the 1.6-liter diesel engine that will feature on the VW Vento.
The 1.6-litre common rail diesel engine makes 105 bhp, which should be sufficient to power this seven seater. The 1.2-liter K-Series engine and the 1.6-litter VVT engine that powers the SX4 could be the petrol options. The former was designed for cars of smaller sizes, and it wouldn't make the R3 a very engaging drive. The latter could be transplanted with ease, saving time, since its home is the engine bay of the SX4.
Maruti is yet to finalize details for this vehicle as it waits for the customer feedback to be processed.
Suzuki could take the Indian-engineered R3 MPV to markets like Brazil where it could produce it in VW plants. The Suzuki R3 knocked-down kits from the Manesar/Gurgaon plant could be exported to European and Latin American countries where it will be assembled.
Source - NDTV Profit, BS Motoring