There are hardly any reasons that could put you off from buying the Maruti Swift diesel and perhaps the only one we can think of is the long waiting period.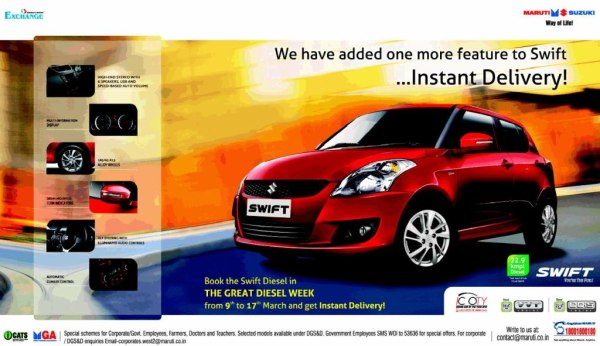 Do you know anyone who has got a Swift diesel immediately upon booking since the original version's launch?
We don't.
Maruti has silently started an instant delivery campaign for the car called the "The Great Diesel Week" which commenced on 9th March and continues on till March 17. A specific number of cars will be allotted for each dealership and will be made available on first come first serve basis.
The move is sure to bring in a lot more customers and also would reduce the frustration customers had due to long waiting period. There is no price discount being offered on the Swift diesel. Should Maruti offer discounts on India's best selling diesel car?
The Swift diesel is one of the dozen cars to be powered by Fiat's supremely talented 1.3 litre MultiJet diesel engine (DDIS in Maruti's language). The motor puts out 74 bhp and delivers impressive performance while not compromising on fuel economy.
The Swift clocked 19,534 units in February and started the year with 18,928 units in January. This is truly epic considering its nearest competitor, the Hyundai i20, sold a corresponding 7,605 units and 8,655 units.
There is no information about how many cars have been allotted for this offer in total. Maruti maybe the first company in India to market no-waiting-period as a selling point.
Nevertheless if you are in the market for a compact family car, it is worth paying a visit to the nearest Maruti dealership to see if one is available for instant delivery.
[Source: Motoroids.com]