Maruti's smallest crossover targets India's millennials.
| | |
| --- | --- |
| Specifications | Maruti Ignis |
| Dimensions | |
| Overall Length (mm) | 3,700 |
| Overall Width (mm) | 1,690 |
| Overall Height (mm) | 1,595 |
| WheelBase (mm) | 2,435 |
| Fuel Tank Capacity (L) | 32 |
| | |
| Engine (Petrol) | |
| Displacement | 1,197 cc |
| Max Power (kW/rpm) | 61/6,000 |
| Max Torque (Nm/rpm) | 113/4,200 |
| Engine (Diesel) | |
| Displacement | 1,248 cc |
| Max Power (kW/rpm) | 55.2/4,000 |
| Max Torque (Nm/rpm) | 190/2,000 |
| | |
| Transmission | |
| Type | 5-Speed Manual/5-speed AGS (AMT) |
| | |
| Fuel Economy (ARAI-certified) | |
| Overall average (km/L) | 20.8 (Petrol) / 26.89 (Diesel) |
| | |
| Suspension | |
| Front | McPherson Strut with Coil Spring |
| Rear | Torsion Beam Axle with Coil Spring |
| | |
| Brakes | |
| Front | Disc |
| Rear | Drum |
| | |
| Tyre | |
| Size | 175 / 65 R15 |
| Type | Tubeless |
Urban crossovers are taking the Indian market by storm as more buyers start turning their heads towards compact, competitively priced examples that just 'offer the look' of an UV, but the drivability of a regular car. Every mass-market manufacturer is looking to jump in the bandwagon and capitalise on the increasing demand, and it has worked wonders for some.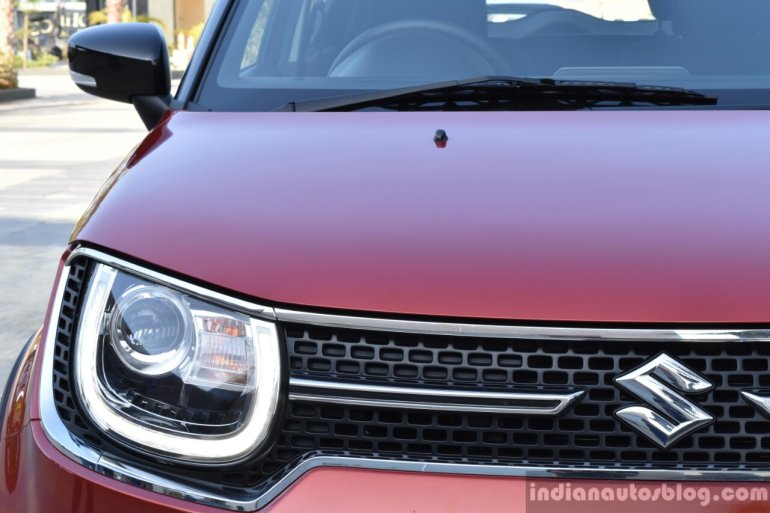 When we first saw the Suzuki iM-4 concept (Ignis precursor) at the 2015 Geneva Motor Show, it was then quite apparent that the production version would find many homes across India. Maruti didn't show the Ignis to the Indian public until the Auto Expo 2016, where it was greeted with many curious, interested eyes.
For the Ignis, Maruti are targeting millennials (people born between the early 1980s to late 1990s), and to drive home that point, they brought Axwell to perform at its national launch, enabled online booking through the NEXA website, as well as offering interesting color/trim choices that spruce up the funky design, a decent feature list to woo geeks, and the option of an automatic transmission in both petrol and diesel variants.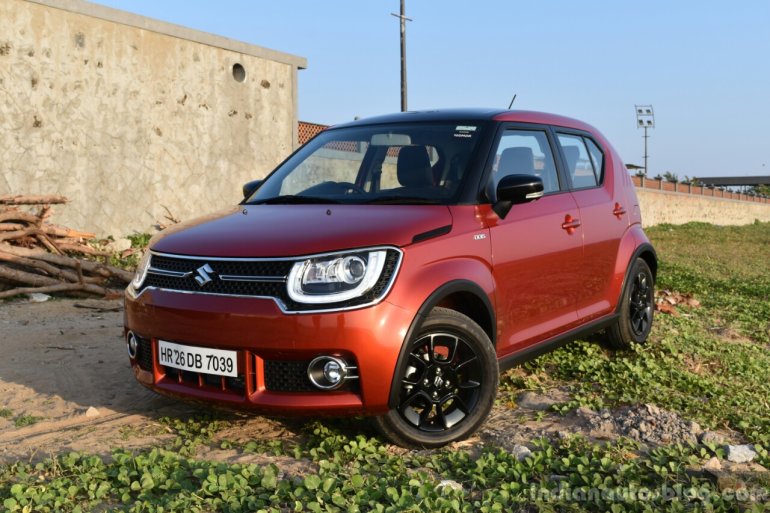 Given how much Maruti executives have been flinging the word 'millennials' in their product presentations, I - a millennial myself - was looking forward to having a go in the Ignis. Here's IAB's first drive review of the Maruti Ignis.
Exterior Design and Features:
These days, it's quite hard for designers to come up with something unique whilst not sparking negativity and cries of "it's copied" from social media, and that's after dealing with colleagues who have to "productionize" the design.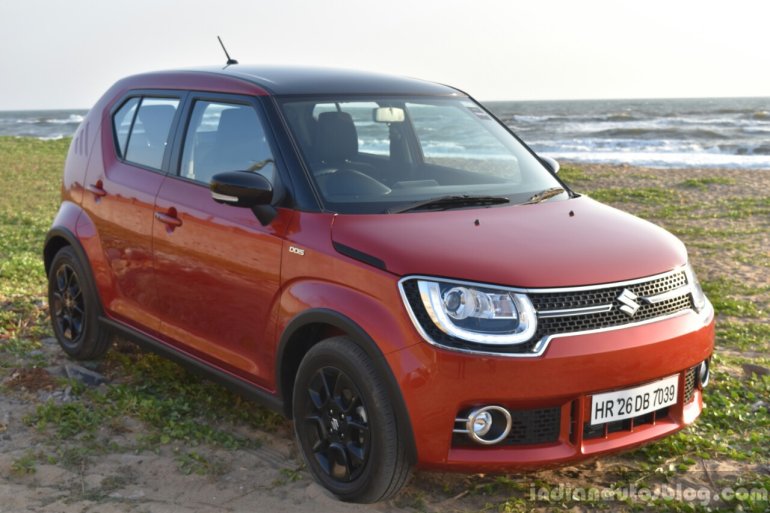 In our eyes, the Ignis is a breath of fresh air, as far as Maruti's exterior designs are concerned. There's a certain attractiveness to the Ignis's face, especially in the top-end Alpha grade with those bright LED DRLs and chrome details. It's unlike anything we've seen from a brand that usually sticks to rolling out inoffensive designs.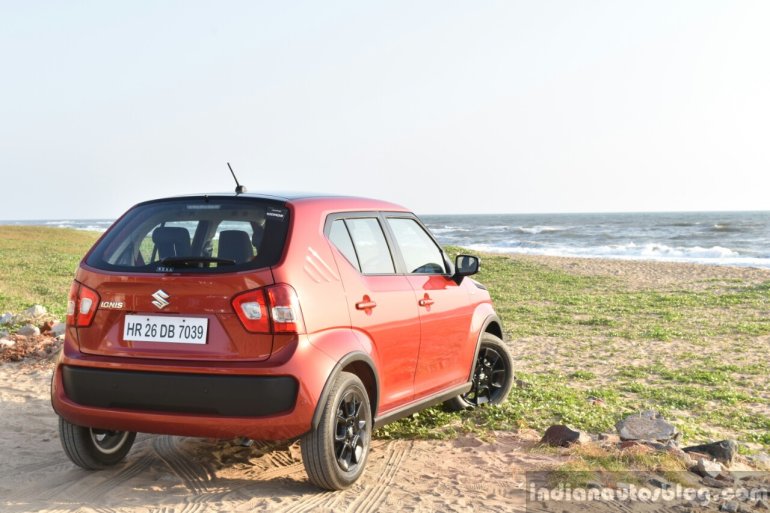 The profile is well proportioned, has nice details that break the monotony of its boxy styling and rides on 15 inch alloy rims painted gloss black from the factory itself. However the design of its derriere has generated polarising opinions: some praise it for appearing unique, while others find it unsightly. In the end, subjective aspects are, well, subjective.
Interior Design and Features:
Now here's an interior that doesn't look like any Maruti we've seen before. Yes, it still has the same door handles and chunky square buttons seen since the first gen Swift, but they pale in comparison to what's new in the Ignis.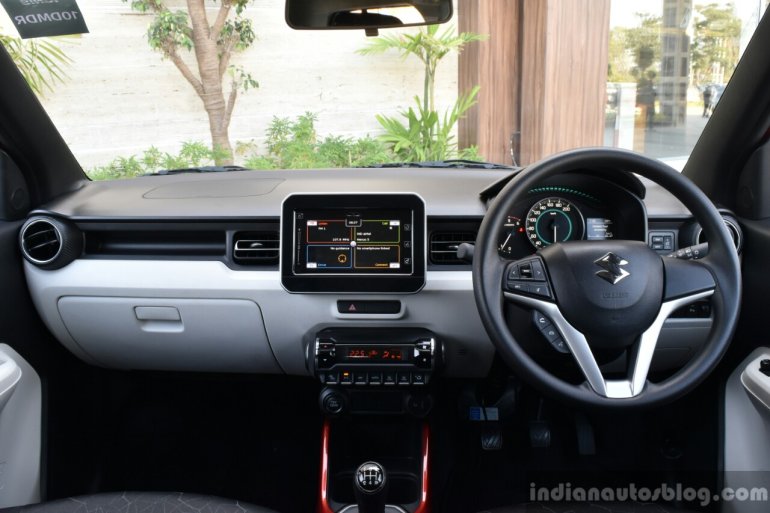 Firstly, NEXA's entry-level car has - surprise,surprise - better build and perceived quality than the Baleno and S-Cross. It is yet to reach Hyundai- or VW-levels, but Maruti is certainly taking a step in the right direction, and makes us hopeful of seeing better interiors in upcoming models.
Also new is, thankfully, the steering wheel, for which Maruti stayed away from Swift's parts bin. It's a nice wheel to hold and the mounted buttons (available even from Delta grade) are tactile to press, although we were surprised that the top-end Alpha didn't get a leather-wrapped unit.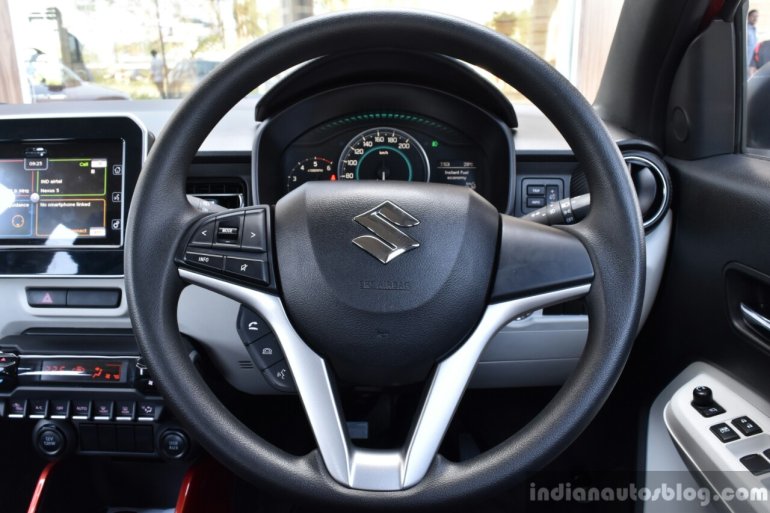 The dual-tone floating dashboard accentuates the interior width of the Ignis, and houses HVAC vents detailed with silver and faux carbon fiber trim. Taking the centre stage is a freestanding 7-inch Smartplay infotainment system with navigation, Apple CarPlay and Android Auto connectivity. Although the system is easy to operate, the thick bezels around the screen make it appear cheap. Lower variants feature a 2-DIN audio system with Bluetooth in its place.
An highlight of the Maruti Ignis is cabin space - it's got plenty of room to accommodate 4 adults comfortably, which is not the impression one gets from the outside. With the front passenger seat set for my 6'2 frame, there was still a good amount of legroom and headroom to spare. The rear bench seat is comfy, although I did find thigh support a bit lacking. It's also an utilitarian cabin, with features like 60:40 split seats, 260L boot capacity and plenty of storage spaces scatter around.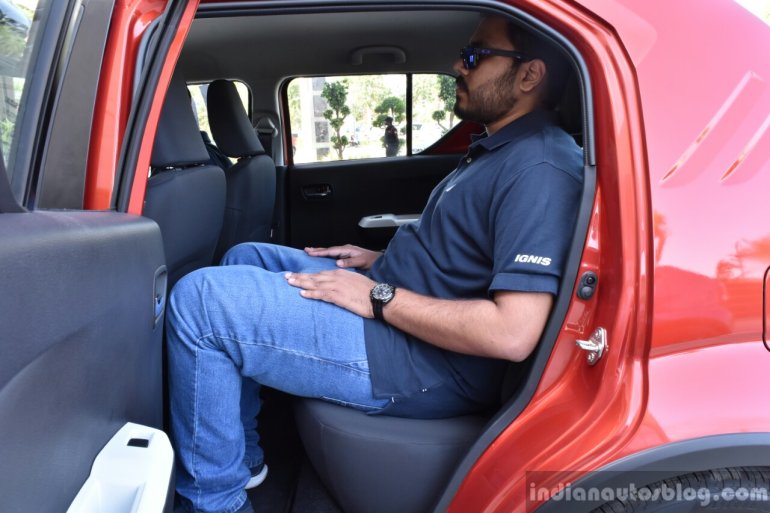 The Maruti Ignis comes equipped with safety features like dual airbags, ABS, ISOFIX seat anchorages and seat belt pretensioners as standard across the range. It's yet to under go crash tests by NCAP, so a real-world safety rating of the India-made Ignis is unavailable for now.
Engine and Gearbox Performance:
Maruti is offering both petrol and diesel engine options at launch, each available with a manual or automatic. To be specific, the Ignis can be had with the familiar 1.2L K12B 4-cyl petrol unit producing 61 kW (83 PS) and 113 Nm of torque, or a 1.3L 4-cyl DDiS 190 diesel engine with 55.2 kW (75 PS) and 190 Nm of torque. A 5-speed manual is standard, while a 5-speed AGS (AMT) is available as an option in both variants.
Ignis Petrol:
As expected, the petrol variant of the Ignis will be the most appealing to an enthusiast. Not only is the motor refined, silent (a bit too silent) and has decent pull at low rpms, but is also a rev-happy unit; linearly shuffling peak torque at the higher-end of the power-band, whilst emanating a good engine note to entice the driver for more. Because the kerb weight is under 900 kg, the performance is peppy and you can feel the torque pull at higher rpms.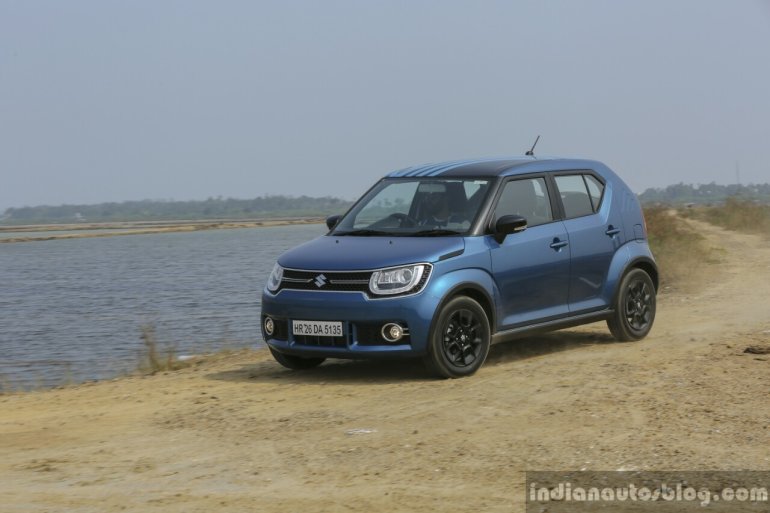 The manual variant of the Ignis petrol has a 5-speed gearbox similar to the Baleno's unit. It shifts through the gear ratios in a smooth and slick manner, while the clutch pedal is fairly light and has a decent amount of travel.
This is the first time Maruti paired an AMT with the 1.2L petrol engine. In the Baleno, the 1.2 petrol automatic has a CVT, while the Swift Dzire 1.2 and Ritz 1.2 come with a 4-speed automatic. As far as petrol AMTs from Maruti go, the unit in Ignis is much smoother to drive. Sure, the usual AMT quirks are present, but they're far less perceptible when being driven calmly. To perform quick overtakes, we'd recommend using the manual mode.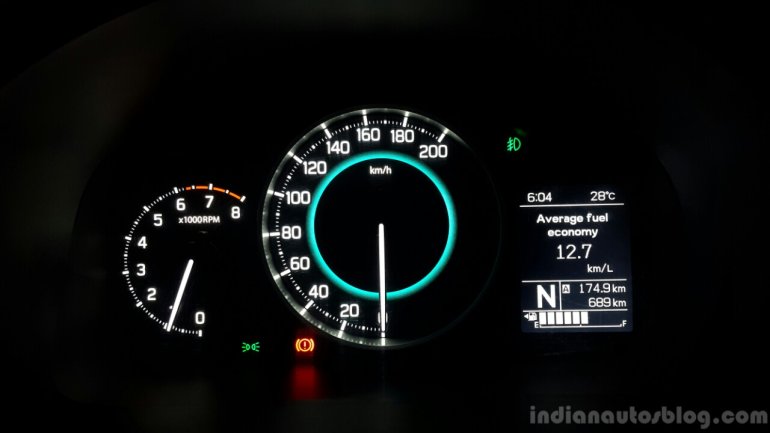 Maruti claims that the Ignis petrol can average a fuel economy of 20.89 km/L (ARAI-certified), which is more than acceptable for compact petrol-powered crossover. As the test drive was brief, we couldn't put it through proper fuel efficiency tests.
Ignis Diesel:
If your trips often involve highways, the 1.3 DDiS diesel engine is the right engine to pick. Of course, the petrol variant is not a bad highway cruiser, but the diesel motor's strong mid-range and fuel efficiency numbers are more appealing than the petrol motor's rev-happy, peppy nature.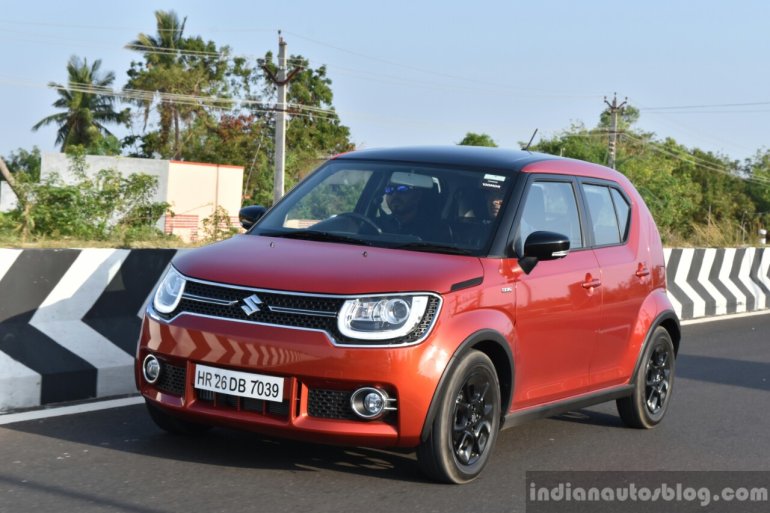 Typical of the DDiS 190 turbodiesel engine is the discernible turbo lag under 1800 rpm. Once the turbo spools past 2000 rpm, the engine's peak torque is dumped on to the wheels, and it accelerates with a good amount of pull all the way till the redline.
The 5-speed manual gearbox and clutch combo is largely similar to the petrol variant. The AMT, however, isn't. Compared to the Dzire 1.3 diesel AMT, the Ignis 1.3 diesel AMT has noticeable improvements, but there are still some oddities that dampen the drivability. For instance, it doesn't upshift immediately as you lift off the throttle, which is a bit unnerving when driving on city roads with traffic, and doesn't mask the turbo lag like you'd expect from a diesel automatic.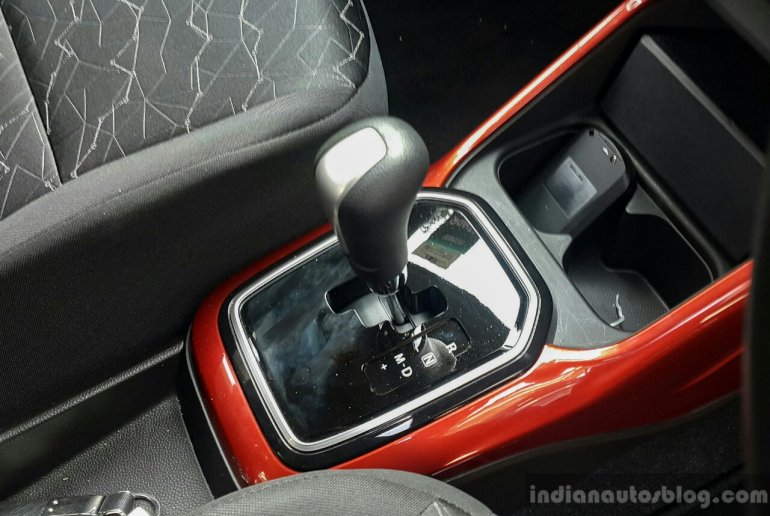 Diesel-powered cars from Maruti have always offered strong fuel efficiency figures, and the Ignis is no different; it is capable of averaging a fuel economy of 26.8 km/L (ARAI-certified). As stated above, the test drive was brief, so we couldn't put it through proper fuel efficiency tests.
Ride Quality, Handling and Steering:
Like any compact hatchback in India, the Ignis' suspension comprises of a McPherson strut at the front and a torsion beam axle at the back.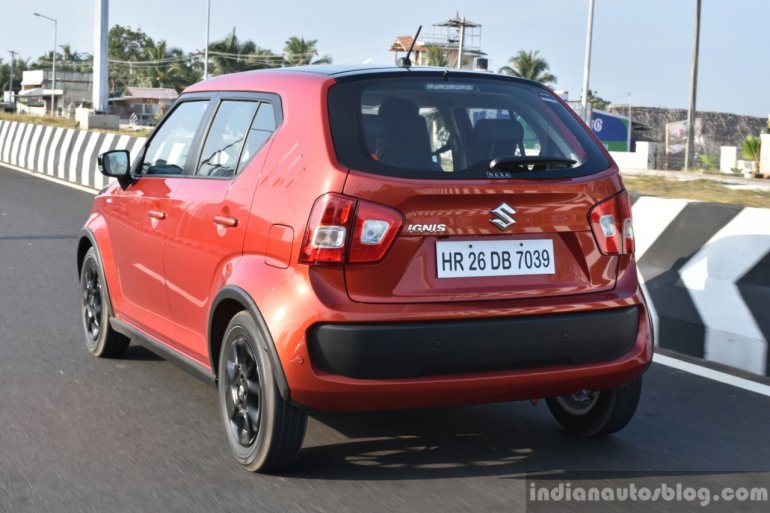 Maruti has managed to strike a good balance with the Ignis' ride quality and handling. At low speeds, the suspension soaks up small-medium road irregularities with relative ease, although jerks from larger ruts do permeate into the cabin. As speeds climb, the Ignis' suspension firms up a bit, resulting in solid and reassuring stability on highways, even more so in the heavier diesel variant. It's not a very slippery car through air, which is apparent by the prominent wind noise post 120 km/h.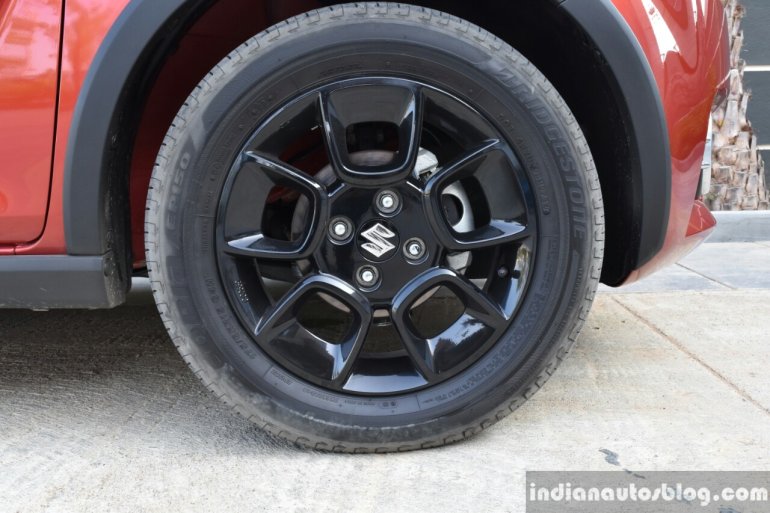 Given that the route chosen by Maruti mostly involved straight highways, we couldn't put its cornering capabilities to the test. As for steering, the EPAS is satisfactorily light at slow speeds, although we would prefer a bit more weight at high speeds, so as to keep confidence at high speeds intact.
Price:
Maruti Suzuki launched the Ignis on January 13 at the following prices (ex-showroom Delhi):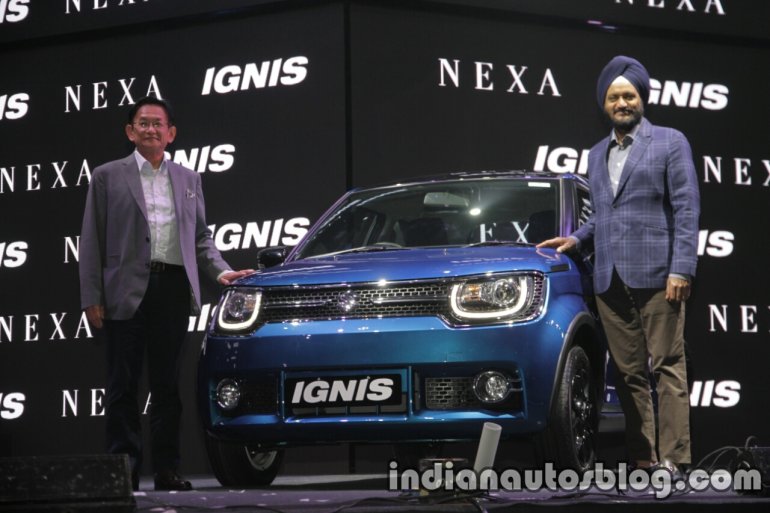 Maruti Ignis 1.2 K12B Petrol
Maruti Ignis Sigma: INR 4,59,000
Maruti Ignis Delta: INR 5,19,000
Maruti Ignis Zeta: INR 5,75,000
Maruti Ignis Alpha: INR 6,69,000
Maruti Ignis Delta AMT: INR 5,74,000
Maruti Ignis Zeta AMT: INR 6,30,000
Maruti Ignis 1.3 DDiS Diesel
Maruti Ignis Delta: INR 6,39,000
Maruti Ignis Zeta: INR 6,91,000
Maruti Ignis Alpha: INR 7,80,000
Maruti Ignis Delta AMT: 6,94,000
Maruti Ignis Zeta AMT: 7,46,000
First Impression:
The best words to describe the Ignis are 'fun', 'unique' and 'spacious'. When I was flagged down by a fellow motorist asking for my opinion, these were the first words that rolled out of my tongue. They perfectly summarise our impression of the Maruti Ignis.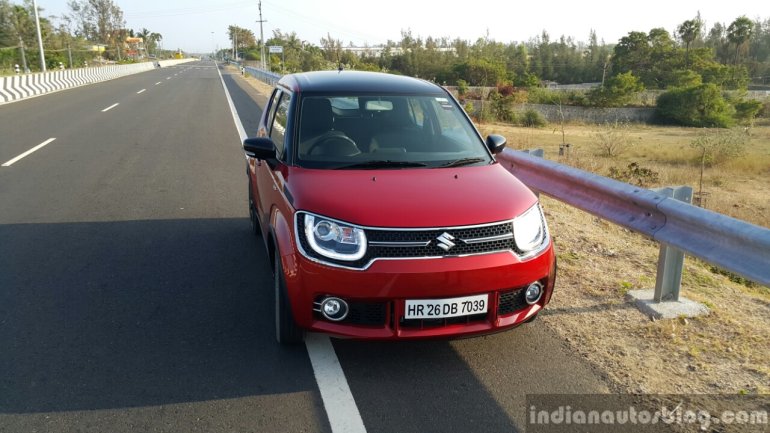 The top-end Ignis does seem a bit pricey, especially when it's compared to an equivalent variant of the Maruti Baleno. But it does justify the price tag by offering a unique exterior that stands out, a premium interior with good build and perceivable quality, decent list of features, and peppy-yet-fuel-efficient range of engines. To some extent, there is truth behind the Ignis' official "None of a Kind" tagline.