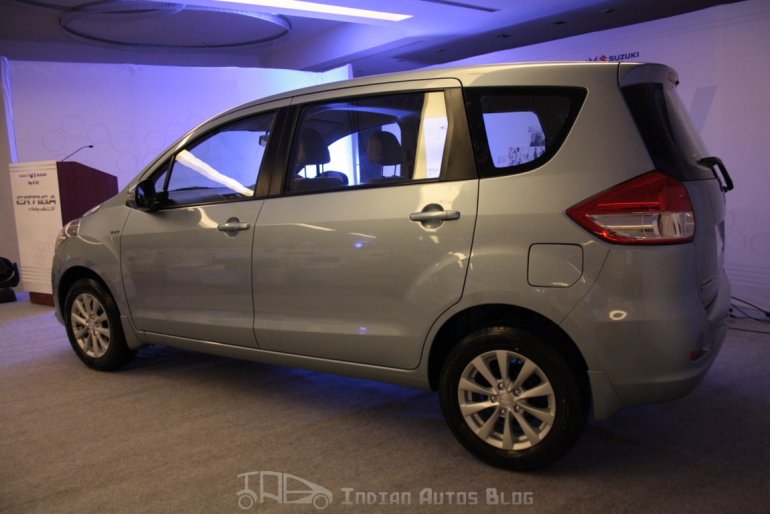 News comes in from NDTVProfit that the Maruti Suzuki Ertiga has managed to clock a whopping 32,000 bookings within just one month of its launch.
In fact, it has clocked so many orders that it has run into a typical Maruti problem of 'increased waiting period'. While the company has clocked 32,000 orders, its factory can only roll out 6,000 units in a particular month.
There are various success factors working in favor of the Ertiga. But the biggest one by far is the value that it offers for the price it asks. Sure, the Ertiga affects everything right from existing MPVs like the Xylo and Innova to the upcoming ones like Nissan Evalia, Chevrolet's Njoy and Mahindra's mini Xylo. Even some expensive hatchback like the Jazz and i20 might bear the brunt of the cheap price tag of the Ertiga.
But the Ertiga hurts Toyota India the most of all manufacturers for two reasons:
Although the Ertiga is technically not a direct rival of the Innova because the Innova is a much bigger MPV, it is pretty obvious that some prospective Innova customers may have been lured to the Ertiga because of its price tag. The Ertiga has the same wheelbase as the Innova and the two offer very similar levels of room. Maruti is clearly outselling the Innova for the next 6 months.
The Ertiga might have had a much bigger impact on Toyota India's fortunes. Many of us are intrigued by the concept of mini MPV which the Ertiga has presented in India for the first time. But Toyota already had the Avanza which is exactly like the Ertiga in every possible way. The Avanza is a very successful mini MPV in South-East Asian market but Toyota India was always hesitant to bring this product to India because it was not designed for India.
If Toyota India would have managed to bring the Avanza before the Ertiga, who knows, may be Toyota India would be sitting on 32,000 orders by now. But one should not count out the difficulty in explaining the differences between the two MPVs to the customers.
Cannibalization is always a possibility when you have two people movers that don't have the versatile features like design, power, handling or sportiness sedans and hatchbacks enjoy in varying amounts. When was the last time you heard of a sporty MPV or a stylish MPV? Differentiating the Innova and Avanza could have been tricky but if Toyota had pulled it off, the story could have been interesting. Its not too late, this is a marathon race and the finish line is not in sight. Toyota can use the Etios platform, but has the Ertiga's brilliance in its brief life triggered the company into action?
A lot of people may think that with the Ertiga sitting on 32,000 units, its game over of most other MPV. But the way I see it, the games have just begun!
[Source: profit.ndtv.com]