The Maruti Celerio diesel takes on the Chevrolet Beat diesel, the Hyundai Grand i10 diesel and the Ford Figo diesel in the compact diesel hatchback segment. Here's a spec-sheet comparison of these entry-level diesel offerings.

The Figo is the oldest offering in this group, but continues to be the longest and widest in the segment, followed by the Hyundai Grand i10. The Celerio is the shortest in overall length, but at 2,425 mm it shares an identical wheelbase with the Grand i10. The Beat has the smallest wheelbase in this class.
This also means that the Figo has the largest boot in this segment at 284 liters, while the Beat has a small 170 liter boot.
Coming to the powertrain, the Celerio has a two-cylinder unit, the Grand and Beat sport a three-cylinder engine, while the Figo is the only car in this class to come with a four-cylinder engine. As a result, the Celerio puts out the least amount of power and torque at 47.6 PS and 125 Nm respectively, while the Grand i10 and Figo churn 160 Nm of torque, the highest in this category.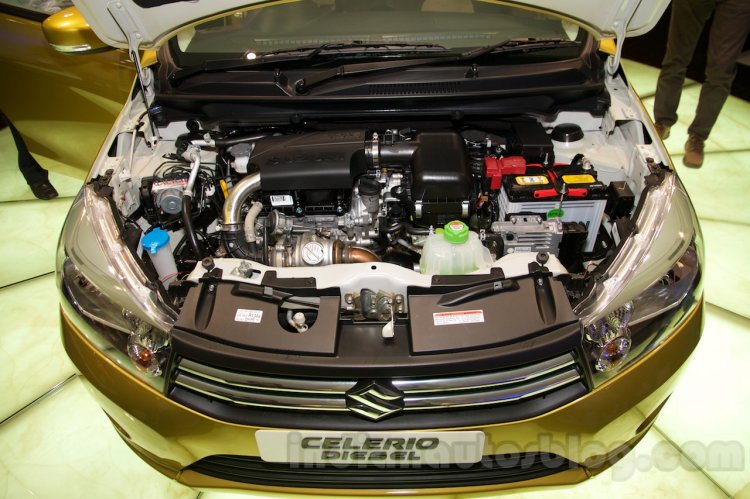 Owing to its class-leading 71 PS, the Grand has the highest power-weight ratio at 69.26 PS/tonne, followed by the Figo at 61.06 PS/tonne. The Celerio comes in last at a meagre 52.88 PS/tonne.
The Celerio redeems itself on the fuel efficiency front, with a best-in-segment (India's most fuel efficient diesel passenger car) figure of 27.62 km/l, followed by the Beat's 25.44 km/l. The Grand i10 returns 24 km/l while the Figo is good for 19.99 km/l.
Coming to prices, the Celerio undercuts the competition by INR 41,000 (INR 86,000 when compared with the Hyundai Grand). The top-end variant of the Grand i10 is the most expensive car in this segment at INR 6.74 lakhs.
Maruti Celerio Diesel - Image Gallery