Maruti Alto sales have crossed the cumulative 25 lakh mark (2.5 million). The car, launched in 2000, is the fastest brand to clock 25 lakh units, a club that has just one other member in India - the Maruti 800.
10 years after its launch, Maruti introduced the 1,000 cc version of the car - the Maruti Alto K10 - which has added 4 lakh units in under four year.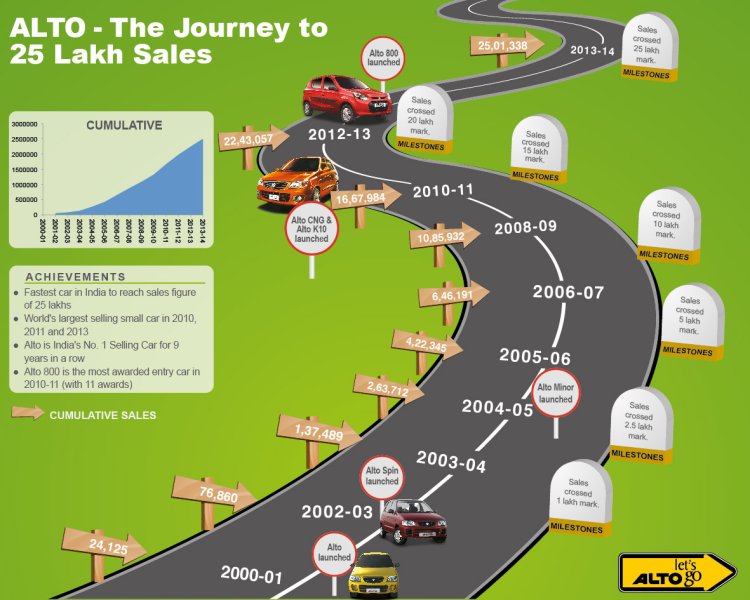 About 12 years after its launch, Maruti introduced the Alto 800, a revamped version (retaining the old chassis) which sold 100,000 units in about 4 months of its launch, attaining yet another milestone. Maruti launched the Alto 800 marketing its 15 percent higher fuel efficiency and made the CNG variant available from the launch date.
The company has exported 2.85 lakh units of the Alto, but the biggest milestone has to be its reclamation of the world's best selling small car title in 2013, which it ceded to the VW Gol last year.
The Alto comes in 8 variants at a starting price of INR 2.41 lakh. The company is working the Alto 800 platform to give it a the K10 B engine (used on Celerio and Wagon R) to launch the next generation Alto K10 by January 2015. In the same newspaper report that brought this development to light, it was said that an AMT would also be served.