Abdul Wajid, an unemployed man from the Muzaffarnagar village (a city and municipal in Uttar Pradesh which is part of the New Capital Region) has built an aircraft propelled by an engine from a Maruti Suzuki Omni.
[YouTube link]
The 26-year old built the aircraft out of sheer frustration that he could not secure a job all these years. He first used two bike engines, but later used the engine out of a Maruti Suzuki Omni which he bought from a scrap dealer. The single-seater aircraft weighs around 350 kg and measures a meter in length. It is supported by a sturdy steel frame. For reference, the Maruti Omni is powered by an 800 cc three-cylinder unit capable of 34.7 PS and 59 Nm of torque.
Wajid built the aircraft based on his past training in aero-modeling while he was with the NCC (National Cadet Corps). Equipped with a 25 liter fuel tank, the home-made aircraft runs on petrol and can sustain in air for 10 km, claims Wajid. It costed him INR 5 lakhs to build it.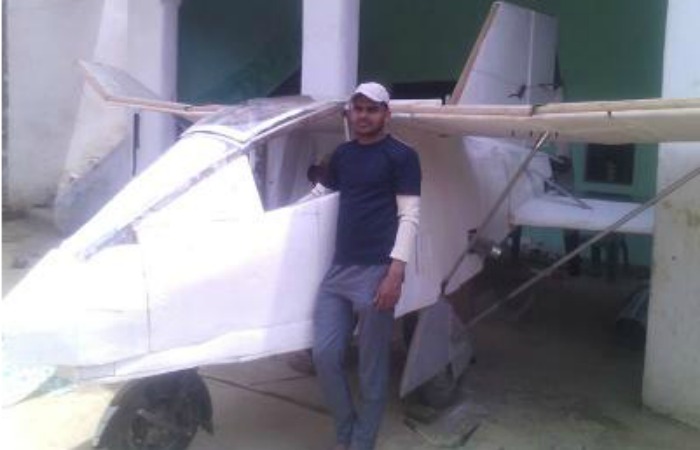 When asked about the safety equipment on-board, Wajid said that he would keep a parachute with him once he received the necessary permission to fly it. While a permission is required to fly the aircraft, his village's additional district magistrate stated that only the civil aviation ministry (DGCA) could grant a permission.
The aircraft, as seen in the video, has working flap elements, a tail rudder and a pivotable nose wheel. While it may look crude from the outside, one has to certainly appreciate the Wajid's self-belief and can-do attitude.
"All I want is to show to all those who have found me worthless what I can do. I do not want anything more. The day this plane makes its first sortie, I am sure aviation industry will take note of it. Someone may employ me, train me further and utilise my services", Wajid told a newspaper.
[Source - Times of India]