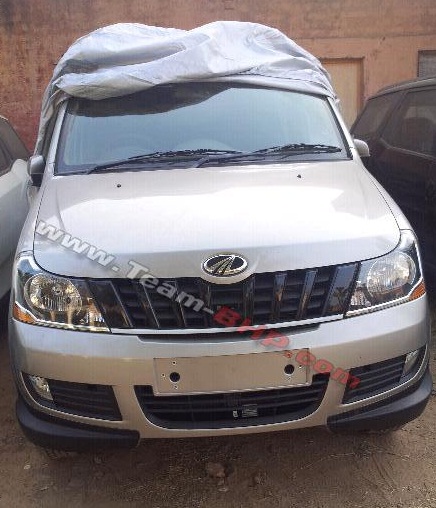 After showing you spyshots of the refreshed Xylo testing near Pune and presenting Shoeb's speculative rendering, today we bring you images of the Xylo facelift completely uncamouflaged, thanks to user Dieseling from Team-BHP.com.
The front-end has gone through a sea of change and feels like some of the XUV500's design language has rubbed off on the Xylo's design team.
The transformation starts at the hood - redesigned using creases relocating to the sides. The bulge along the bonnet's center has been flattened out. Subtle lines flow towards the center from either corners of the windshield.
The Xylo's shiny grille takes a more traditional approach sitting on the same level as the headlamps. It replaces the body-colored grille design that forms the shape of an arch. A slim louvre separates the grille and bumper.
They've put on what we'll call protectors under the bumper. The headlamps are not a complete redo. Tiny indicators are placed on the bottom right corner. Mahindra will use the facelift's launch to add a new variant "E9" to the lineup.
This cosmetic operation has flushed out the funny taste you may get at the back of your mouth when you see a Xylo head-on. There is no doubt that the Xylo facelift outshines the current model on design appeal.
What are your thoughts?
[Source - Team-BHP.com]