Mahindra has just unveiled the XUV500 here in Pune. We're posting a batch of high resolution shots for your viewing pleasure. Mahindra is tight lipped about the specifications and the only piece of info we are able to share is the W prefix in the variant nomenclature. The images here are of the W8 variant.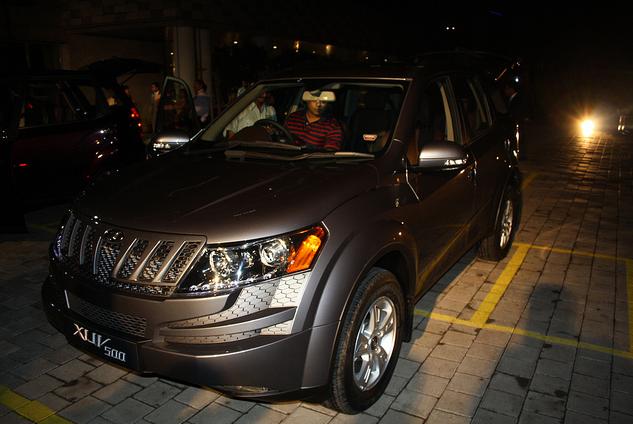 The interiors in first glance (under flood lights) look upmarket. The interior quality is a light year ahead of the Scorpio's. The car is very spacious and the styling is the USP no doubt. Look at the way the tail lamp claws into the rear wings. The floating grille might not be to everyone's taste but the seat backs and color scheme bring to mind SUVs from two segments above. Remember that the XUV will sit above the Scorpio meaning the starting price could be above 12 lakh rupees.
This is the sort of giant leap that Tata took with the Aria, but due to its price it didn't give international brands too many headaches.
Mahindra will discuss the XUV500 in detail tomorrow morning so until then we have to wait. Mahindra will anounce the prices and provide the other details in the same event.
Speaking to a packed house of reporters and automotive experts, Dr Goenka said with this product they are taking Mahindra's offering to a new plane. A total of 200 engineers toiled for 4 years at the MRV facility in Chennai.
An emotional Mr Mahindra said they were building another cult brand with this launch. He said the XUV's characteristics are the embodiment of a Cheetah's - Elegance, Style, Agility and Relentlesness.
Mahindra XUV500 Image Gallery (takes a few seconds to load)
Can't see the slideshow above? View the Mahindra XUV500 Image Gallery directly for pictures