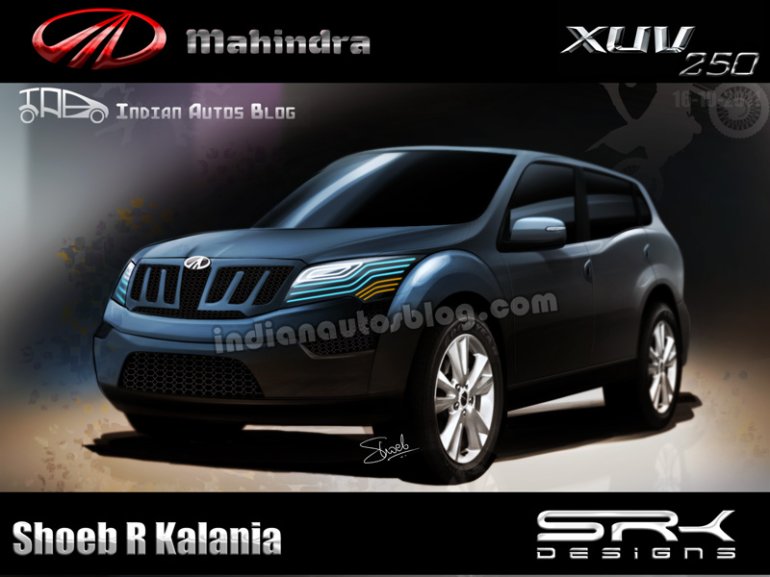 At the launch of the Mahindra XUV500, we sat down for a chat with the engineering boss at M&M Mr Rajan Wadhera. We asked the outspoken Mr Wadhera if XUV will grow up into a brand and derivatives will follow under this nameplate. He responded "I think it is too early to talk about it. Let's see what happens"
Mr Wadhera did not rubbish our claim but on the other hand Mahindra said the XUV name may not be used on models that are marked for exports.
On reading the dialogue, SRK came up with a drawing depicting a baby XUV dubbed 'XUV250.'
Note that Mahindra does not have plans for a XUV250 though their mini SUV project (S101) could take a leaf out of the XUV's book.
Shoeb hasn't done a road-going car but a concept or display model instead pointing out some facets.
XUV250 carries a design language similar to its bigger brother XUV500
Front carries the signature 7 slot Mahindra grill and vents on bumper inspired by XUV500
Huge headlamps extend till the far edges of the vehicle
Chunky fenders provide the muscular/masculine look
Smaller in dimensions and lighter in weight, the XUV250 can easily cut through traffic
Power comes from a three-cylinder mill suiting the footprint of the vehicle
Targeted at young urban population who are adventurous, want to give wheels to their attitude but don't have the financial muscle for the XUV or Scorpio.
Seating configuration is 2+3 with limited stowage area. Folding seats brings extra boot volume
Can be a good off-roader due to its short wheel base and optional 4X4 function
What are your inputs for Mahindra's mini SUV?