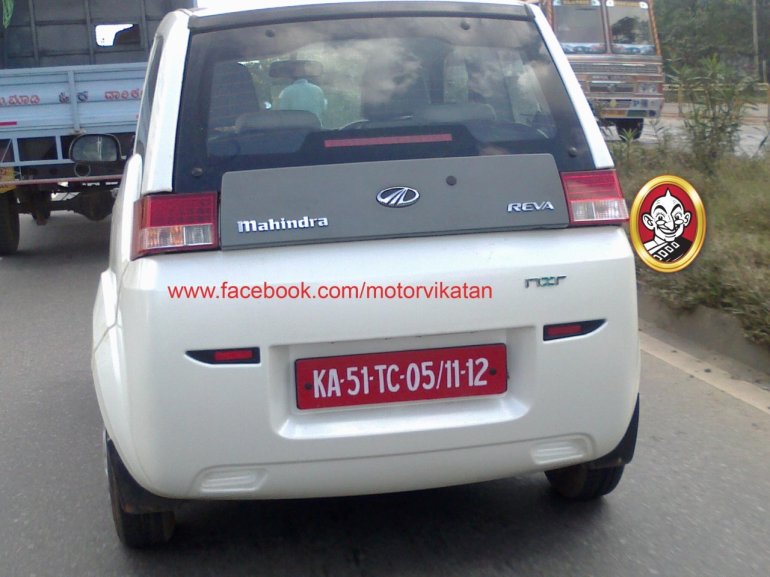 Days after we uploaded an image of a completely unmasked REVA NXR electric vehicle from Bangalore revealing the front-end, we have a new spy pic courtesy of a Motor Vikatan reader revealing the rear.
This week Mahindra announced that the NXR is coming to the Delhi Auto Expo in January. The NXR is a two-door city hatchback powered by L-Ion batteries that helps it along for 160km on a single charge. Its top speed is similar to the Tata Nano's.
This model lacks features such as rear wiper and extra pair of stop lights on the bumper. The model shown at the Frankfurt Motor Show had REVA written in block letters on the gray plastic slate beneath the windshield. On the revised model the Mahindra name and the brand logo are included.
Some benefits of owning a REVA NXR -
Freedom from varying fuel prices - To hell with the petrol pump!
Environment-conscious motorists earn karma points - Didn't they tell you life is about feeling good?
Some corporates provide subsidies for purchasing an electric vehicle and offer electricity (only to charge the car!) at discounted rates/free of cost
Feeling of owning a unique set of wheels - The attraction it gains at every traffic signal gives you a taste of what Veyron owners go through!
Lowered service cost - No oils, filters and belts to change
Instant torque of an electric motor - Imagine an engine that has a sweet spot throughout the RPM band
Silent, vibration-free operation provides improved passenger comfort; Music lovers will appreciate this more as the audio quality is much better
We'll keep an eye out on how Mahindra markets this product to the Indian public that perceives electric cars as slow, dull and impractical.
[Image sourced from FaceBook.com/MotorVikatan]