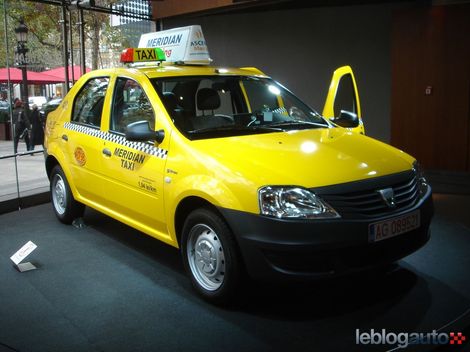 Mahindra Renault Logan- when you think of this name, space, space and more space comes to your mind- Why, it's India's first wide body car.
Mumbai Taxi driver's association were looking to replace their fleet which presently boasts of decade old cars like the black-yellow Premier Padmini which can't serve as taxis in 21st century any more. They thought the Mahindra Renault Logan was an excellent alternative. It's got a large boot, the best shoulder and leg room for five adults and a frugal diesel engine. If you read this month's Overdrive, you'll know that the Logan returned a startling 30 kmpl in it's journey from Delhi to Ahmadabad.
According to a representative of the Mumbai Taxi Chalak Malak Sena, who asked Mahindra Renault to supply 250 units of their Logan to them, Mahindra Renault turned down the request since they felt that it will 'devalue' the brand.
Talks are still on with the Mumbai RTO with reference to whether or not the Logan can be used as black-and-yellow taxis in Mumbai. Mahindra Renault is fine with the car being used as a slightly more upmarket, air conditioned cab but isn't keen on selling vehicles that will be used as a basic taxi.
They've even gone ahead and registered a PIL against Mahindra-Renault for rejecting to supply the Logan for taxi usage. The Maharashtra state government is likely to take a decision and resolve the feud in the first week of January 2009.
IAB Comment- Did you know that the Renault Logan is called the McDonald's of cars? It's basic purpose was to appeal to entry level car buyers in Europe. It was designed to offer maximum space to passengers and luggage- The briefing given to designer Ken Melvile was to make a car that could carry 100 kg of potatoes, 4 adults, a pig and a sink as people in Romania use cars for other purposes. The car was dubbed the $6,000 sedan when it was introduced in 2004. It uses many parts from other Renault vehicles, minimum electronics and basic features. Only in India is the Logan considered an up market C-segment car. It's the Tata Nano of sedans elsewhere.
And Mahindra, in case you forgot, much of the Mercedes Benz sold over the globe are used for taxi purposes. Does that make Mercedes Benz less attractive to all of us? Giving out the vehicle for taxi operators reinforces the car's peaks- space, comfort and fuel economy. These taxi guys will come to be your spokespersons later on. Why are you thinking otherwise?