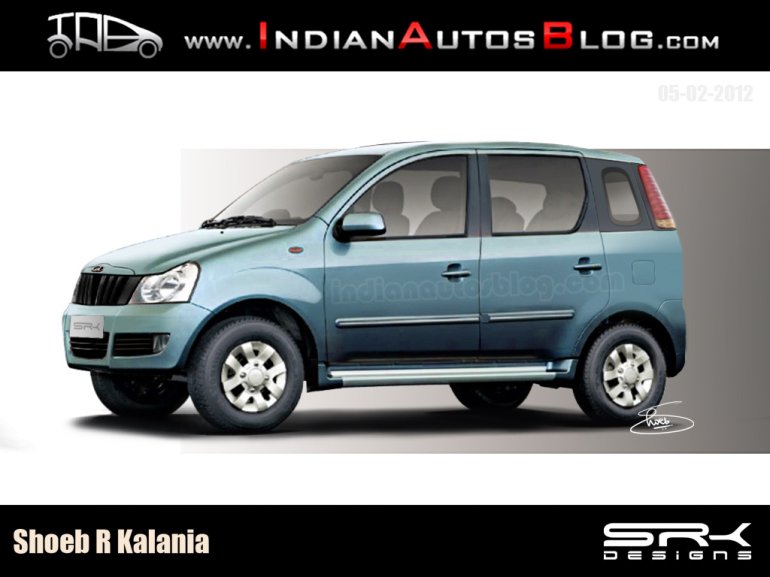 Hardly an hour back we posted spyshots of the mini Xylo testing in Northern Europe to log performance in bitter cold weather. Now we have image editor Shoeb R Kalania showing us the look of the vehicle if Mahindra resolves to lend it the Xylo facelift's front-end.
There are a few compact MPV options in India, cars like the Tata Venture, Maruti Eeco and Maruti Omni sell in sizable volumes. For families the problem is they tag along a commercial vehicle stigma. However hard they try with their parking sensors or family-filled TV commercials, they look and feel utilitarian.
The mini Xylo need not explain or hard-sell as it has no connections to the commercial vehicle market (the Genios are very distant relatives). Mahindra has waged price wars with every launch in the recent past. A starting price of under 5 lakh rupees, maybe 4.5 lakhs that puts it bang in the middle of the Swift's territory is not unfathomable.
Mahindra has a new engine under the bonnet. A 3cyl diesel engine displacing under 1.5 liters supposedly produces 70bhp and 160Nm on the test mules. This will be tuned to return not less than 20 kmpl, a lower limit for premium hatchbacks in 2012.
Some test mules have been spotted with an additional row of seats. Its a bit of a squeeze, but for accommodating children there won't be any problems. Mahindra may not offer the third row on all the variants.
Designers have dropped the idea of reskinning as its an expensive affair. Mounting the spare wheel on thoroughly redesigned rear and adding an aircraft-styled quarter glass at the C-Pillar give it a new personality. This also provides them the chance of marketing it as a mini SUV.
By Diwali this year, the mini Xylo will be out on the market and we can hardly wait to see its effect on the market and the competition.