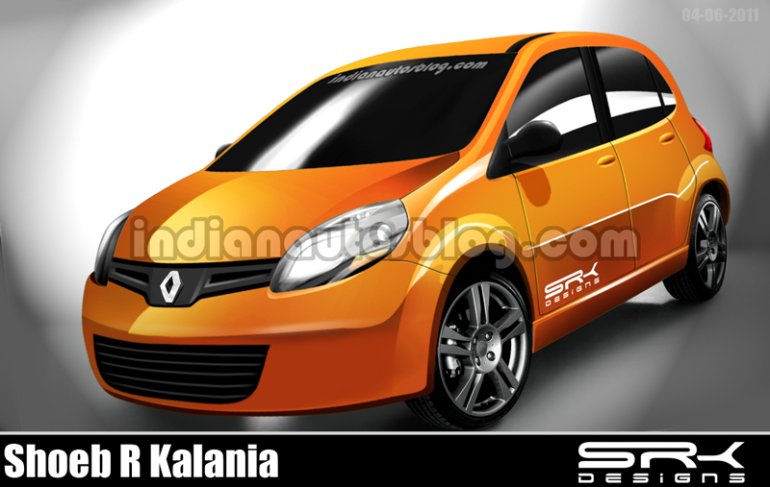 Note - This car is not connected to the V-Platform hatchback expected in India in the start of 2012.
Renault hasn't even established a strong foothold in the country and it is already drawing up big plans for India. The company plans to launch five cars in fifteen months and wants to sell 1 lakh cars by 2013. It wants to capture a 5% market share by 2014. If you think that this goal is a bit too ambitious, Renault India is officially contemplating on a car that will be completely designed and developed in India.
IAB is told that the product could be a very fuel-efficient hatchback. The old adage "Be a Roman in Rome" is suitable for Renault India' ambition. Automotive pundits predict a threefold increase (to six million units from the current two million) in market size over the next few years and fueling this gargantuan growth will be small cars. Cars like Alto, Wagon R, i10 Swift and Indica, perhaps in their upgraded forms, will be the face of the Indian auto market. Nissan, Renault and Volkswagen will try to make that task difficult.
Coming back to the Renault car, it is a project the company can't wait to execute considering all the essentials are in place to accomplish it. Renault has a design studio bubbling with skilled individuals in Bangalore, a technical center in Chennai, a sourcing team in Chennai and a 400k annual capacity plant near Chennai in Oragadam.
These are the different elements Renault has secured for it to move to the next step which is grouping them together to bring out the hatch. It is too early to predict when this car will be launched, but an educated guess is about four year from now, it will be on the road.
Details of the compact vehicle are being worked out, but our understanding is that this car will be dropped into the heart of the Indian passenger car market. Another interesting aspect is it will certainly be made-in-India car for the world. Not only India, but emerging markets around the globe will love this budget city runabout.  The ideal position for the car will be below the V-Platform hatchback that it intends to launch in the beginning of 2012.
The rendering is Shoeb R Kalania's idea of a low cost Renault taking on the likes of Maruti Alto and Hyundai's upcoming HA.