Audi has a unique concept scheduled for this year's Worthersee tour. It is just an Audi TT sportscar but the devil hides beneath in the detail. It is named as the Ultra Quattro concept based on Audi TT S Quattro.
Like the name suggests, the sports coupe is ultra-light in weight. The concept is powered by a 2.0 litre, 4-pot TFSI turbocharged engine having a supreme power output of 310hp  and 400 Nm of torque. This concept plays with simple ethics, chop down the extra weight and make the car go fast.
Audi succeeded its main goal of lowering the curb weight as much as possible as they peeled off over 300kg.
The net result is that the car weighs only 1,111kg improving the power-to-weight ratio to 3.6 kg/hp. That is as good in the range of many sportscars out there. It can fly past from standstill to 100kph in just 4.2 seconds and attain a top speed of 173.98 mph (280kph).
Audi's weight saving measures has come courtesy of a generous use of carbon reinforced plastic material for many of its detachable body parts.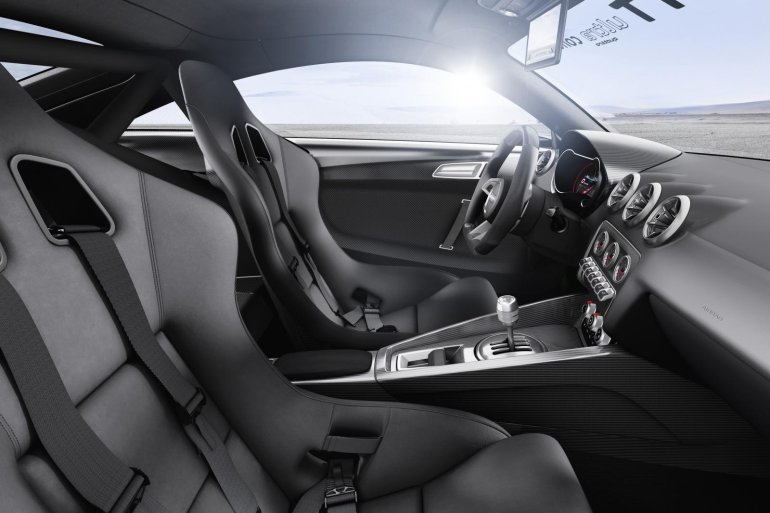 Compared to the standard model, the Ultra Quattro has a 100kg lighter body structure. The wing at the rear is supported by aluminium, and inside, the seats are sourced from the R8 GT which alone helped reduce weight by 22 kg. It bears titanium exhausts and front ceramic disc brakes.
Though the car is made to be faster, it has features like electric windows and air conditioning that are useful for everyday driving. If Audi were ever going to make one, it would come at the expense of what makes it bonkers.