The Lamborghini Aventador LP 700-4 succeeded the immensely potent Murcielago in 2011 as the firm's flagship supercar.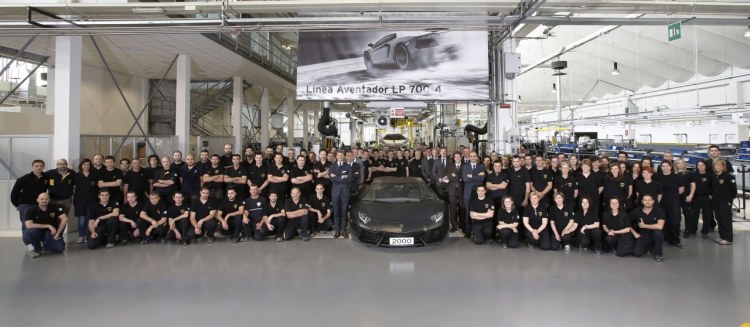 The raging bull, with its stunning design and hair-raising V12 performance went on to become a natural choice when it comes to adorning the garages of the super rich. That is reflected by the fact that Lamborghini was able to roll out the 2,000th example of the Aventador from its factory located in the quite little village of Sant'Agata Bolognese near Bologna, Italy, in just over two years.
The milestone car is painted in Nero Nemesis black shade and is destined for the US. The car can be found at the residence of Mr. Thaddeus Arroyo, Chief Intelligence Officer for AT&T, a top US executive and an ardent Lambo loyalist who also owns a Gallardo LP 550-2 Spyder.
The Italian supercar maker has increased the productivity at its plant when it launched the Aventador. It is evident from the fact that Lamborghini took more than four years to build the 2000th Murcielago. As of now, an average of five Aventadors get built every day.
The Aventador coupe was joined by the Aventador Roadster this year whose pre-order expectations have been exceeded. Lamborghini says that the order bank for both the models are full for more than a year!