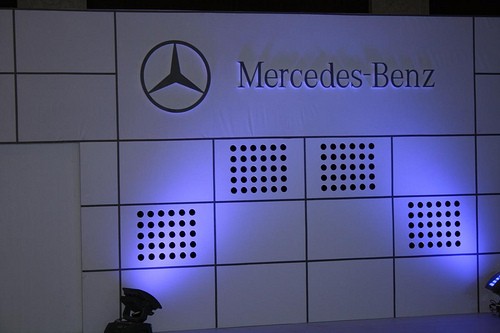 Mercedes Benz India has issued a press release stating that July 2010 was its best ever month since the time it entered India 15 years ago. The German car manufacturer sold no less than 521 vehicles in India in July 2010, beating arch rival BMW by some margin.
The January-July 2010 numbers were equally good with Mercedes registering a growth of about 80% compared to the same period last year.
The best selling Mercedes cars is the E-Class with 212 units. Mercedes was also able to sell 62 SUVs (GL and M-Class) last month which is a giant leap over what they managed to do last year (sold 140 units the whole of 2009).
Press Release
Mercedes-Benz India creates a new record in Indian luxury car market - achieves highest-ever monthly sales in July 2010
* Month of July 2010: Sold over 520 units and records growth of over 80% over July 2009 (July 2009- 288 units)
* Strong demand for SUV's with over 60 units sold in July 2010 alone vis-a-visa 140 units through the entire 2009 (January to December 2009)
* Dr. Wilfried Aulbur (Managing Director and CEO, Mercedes-Benz India): "Our SUVs impressed one and all during our 5 city 'StarDrive Experience'. The demand for the GL and M-Class reflects the confidence and pride of ownership associated with our SUVs. The E-Class also continued its winning streak with 210+ units in July 2010 and a growth of almost 250% over July 2009. The E-Class a favorite of critics and customers alike continues its strong growth with 1250+ units sold since January 2010: a growth of 150% over Jan-July 2009."
August 2, 2010. Pune – The monsoons have not dampened the spirit of the Mercedes-Benz enthusiasts in India - if anything it has stimulated their sales even further. Mercedes-Benz today announced its "highest-ever-month" of sales in its 15-year long history in India. The company sold a total of 521 units which is a growth of 80% over corresponding period previous year (288 units in July 2009). Driving the record numbers was the E-Class with 212 units and the SUVs which witnessed the highest sales ever in any given month (the SUVs GL and M-Class sold 62 units in July 2010, almost half of the annual numbers of SUVs sold in 2009). The Jan-July 2010 numbers were also impressive with 2922 units and a growth of about 80% over 2009 (Jan-July 2009 - 1670 units).
Dr. Wilfried Aulbur Managing Director and CEO of Mercedes-Benz India: "July has been the best ever month in the history of Mercedes-Benz in India. Jan-July 2010 also has been a period of strong growth for us. While numbers are encouraging statistics, they are not the only focus for us. Commitment to exciting products, world-class ownership experience and engaging customer programs will continue to be our focus areas towards appreciation of our customers for Mercedes-Benz."