Official unveil in Shanghai on 19 April 2017.
Earlier this month, Jeep teased a mysterious SUV concept for Auto Shanghai 2017 debut. Just days ahead of its official unveiling at the show (19 April), Allpar has revealed the concept SUV in official sketches.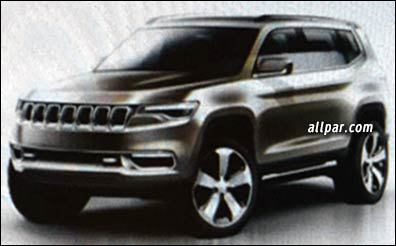 The Jeep K8 concept, the name of which was previously unconfirmed, was believed to evolve into a three-row version of the Jeep Cherokee in production form. However, the sketches suggest that the concept SUV previews a completely new model. It has a traditional SUV shape, typical of a Jeep, and features 7-slot grille flanked by sleek headlamps, muscular and squarish fenders, large alloy wheels and mildly raked back glass.
The Jeep K8 concept looks compact in dimensions, meaning that if it's a three-row SUV, the third row probably won't fit full-sized adults. With a 5+2 seat layout, the Jeep K8 concept's production version would rival the VW Tiguan long-wheelbase, the Honda CR-V 7 seat variant and the upcoming Mazda CX-5 7 seater. It's unknown if Jeep plans to sell this model outside China.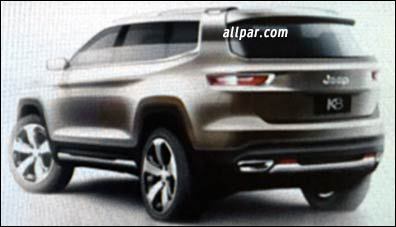 Also See: 2018 Jeep Wrangler (4th gen) exterior revealed in leaked images
The Jeep K8 concept is reportedly an electrified model and its production version could get an electrified variant in the range. Reports last year said that along with conventional four-cylinder engines, the three-row Jeep SUV will have a plug-in hybrid option. The new three-row SUV may debut the GME "Hurricane" turbocharged four-cylinder engine.
[Source: Allpar]