Examines problems in the first two to six months of ownership.
The J.D. Power Asia Pacific 2014 India Initial Quality Study (IQS) ranks the Maruti Alto 800, Hyundai i10, Honda Brio, Maruti Swift, Hyundai Xcent, Skoda Rapid, Toyota Innova and Ford EcoSport highest in their individual segments.
The survey is based on evaluations from 8,429 vehicle owners, including 73 vehicle models from 17 manufacturers. The study examines problems owners experience between the first two to six months of ownership. The vehicles examined were purchased between November 2013 and July 2014.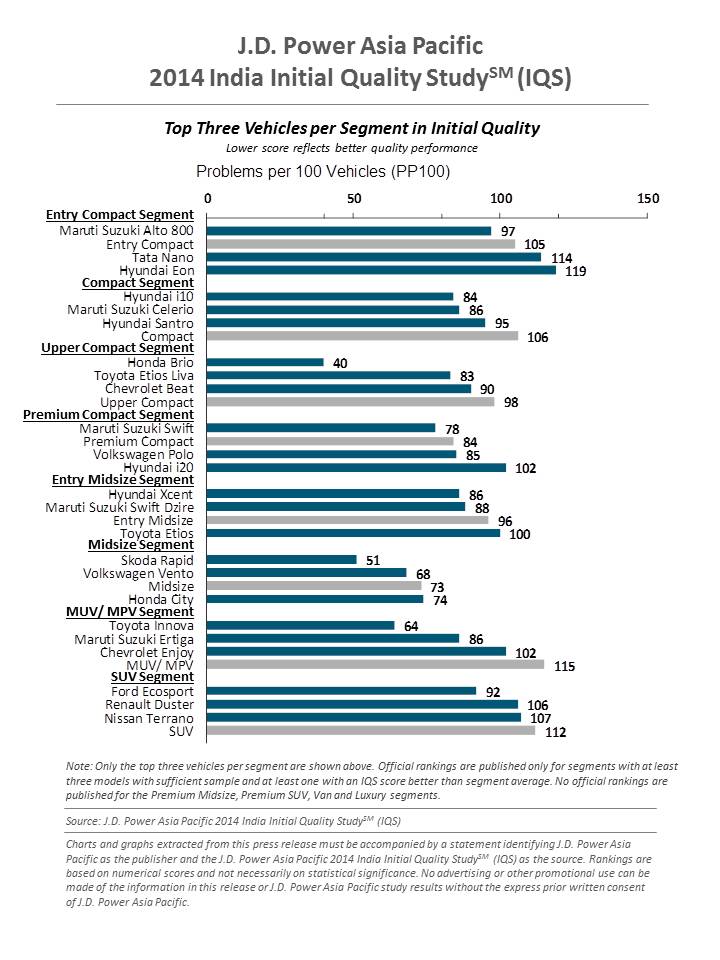 Problems are summarized as 'problems per 100 vehicles' (PP100). A lower score indicates higher initial quality. Compared to 2013's average of 115 PP100, 2014's average has gone down to 100 PP100, indicating that quality levels have increased.
The study also reveals that diesel cars are becoming better in quality as problems reported have decreased significantly compared to the previous year. Categories covered in the survey include engine, transmission, exterior, features, controls, interior, seats, audio and entertainment.
Of the lot, the Honda Brio scores the highest with just 40 PP100 followed by the Skoda Rapid at 51 PP100 and the Toyota Innova at 64 PP100. The Hyundai Eon and Tata Nano rank the lowest with scores of 119 PP100 and 114 PP100 respectively.
Also read: Toyota beats Maruti in sales satisfaction index
The Swift's segment sees the lowest average with just 84 PP100, while the MPV/MUV segment has the highest average problems at 115 PP100.