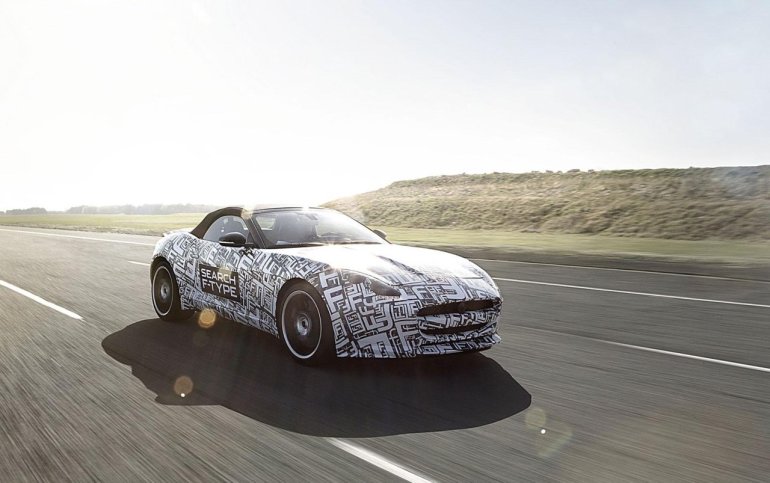 The British marque Jaguar will premiere the F-Type at the Paris Motor Show on the 27th of September. The F-Type marks Jaguar's return to the sportscar segment.
The F-type is based on the Jaguar C-X16 concept and is the virtual successor to the Jaguar E-Type, a car which Mr. Enzo Ferrari described as "the most beautiful car ever made." Jaguar has used all its engineering and design expertise in the F-Type's development as it has to compete in unknown territory that has the Mercedes Benz SLK, Porsche Boxster and BMW Z4.
We would like to add what Adrian Hallmark, Global Brand Director, Jaguar Cars said about the F-Type.
"As its sporting forebears did in their era, the F-TYPE will break new ground by delivering stunning sports car performance while vividly demonstrating Jaguar's cutting-edge engineering technologies and world-class design excellence. The next step in Jaguar's sporting bloodline is about to become reality."
A F-Type draped in newsprint premiered as a teaser at the Goodwood Festival of Speed as testing wore on to analyze the car's performance in all sorts of environments.
Jaguar used the "Virtual World" in which more than half-a-million design analyses were carried out, using up 10 million hours of CPU processing and 300TB of data. Jaguar said that if this analysis was performed in physical cars on UK roads, they would have created a historic traffic jam or taken years to finish. Jaguar used the "Virtual World" results to fine-tune the testing on physical cars.
The F-Type is offered with three petrol engine choices
335hp and 374hp versions of Jaguar's all-new 3.0-litre supercharged V6.
A new version of the existing supercharged 5.0-litre V8.
All the horses will be tamed via an eight-speed transmission and will be equipped with fuel-saving Stop/Start technology. The car will be manufactured at Jaguar's Castle Bromwich factory.