Jaguar debuted Concept C-X17 at the 2013 Frankfurt Motor Show to showcase the fact that the Coventry based automaker can and will enter the SUV segment in the near future. Jaguar proved to the world that just like Porsche, it is not afraid to experiment with different shapes.
X-Tomi Design has presented a rendering which is their interpretation of the production avatar of the Jaguar C-X17.
While the key elements of the concept have been retained, the production version has been given the XF's body parts and a broader front fascia. We can also see that the car has a lower clearance with smaller wheels.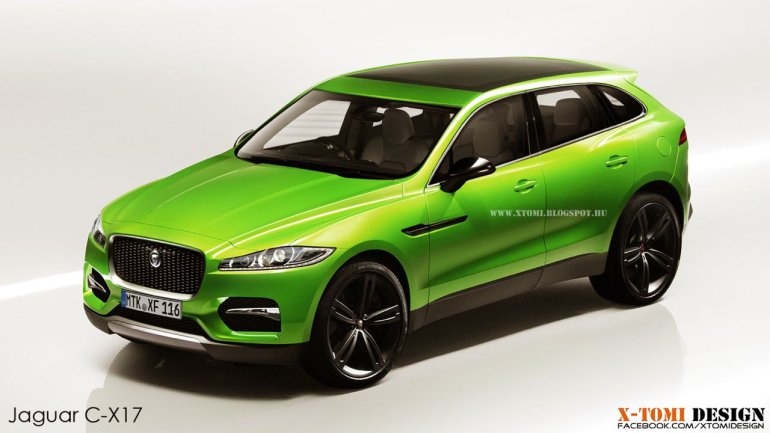 The Concept C-X17 represents Jaguar's ambitions to become the numero uno luxury automaker in the world. The British automaker wants to beat the Germans (BMW, Mercedes and Audi) at the volumes game. Crossovers are the new flavor of the season and all three Germans are making a beeline of crossover products ready to flood the market in the next 3-5 years. Thus, its no surprise that the Jaguar SUV is production bound sooner or later.
Jaguar was initially struck by the dilemma of whether it should enter the crossover segment or not because of its sister company, Land Rover. The automaker feared that entering the crossover segment would cannibalize the sales of Land Rover. Thus, the Concept C-X17 tries to explore the gray area between a Jaguar product and a Land Rover offering.
However, a Jaguar SUV is still a long time away from entering production. Jaguar say that the Concept C-X17 is "just a design study created to introduce Jaguar's new, high-advanced, modular aluminum architecture".
The next product from Jaguar will be a baby XF sedan developed to take on the BMW 3 Series, Audi A4 and Mercedes C Class in 2015. The crossover could follow the sedan sometime in 2016.