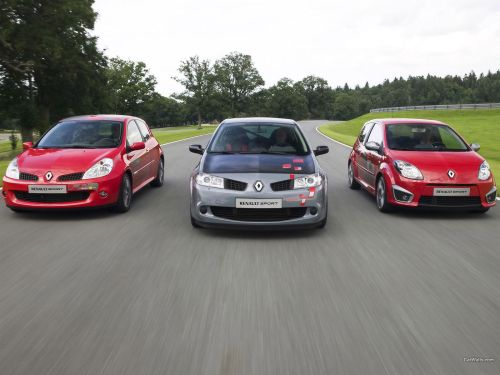 Renault, like every other car maker in the Eu comes up with great hot-hatchbacks. Now that it come up with a special edition Logan (im sorry, but how is it special?), lets review all the cars that share the same philosophy and see whether the Logan is good enough to rub shoulders with other magnificent cars that come with the RenaultSport badge. Even the India-bound Sandero has been launched in this special edition.
Renaultsport Clio 197 F1 team R27, 2.0l Renaultsport 197 Clio cup, Renaultsport Megane 230 F1 R26, Renault Twingo 1.6 Renaultsport and now come the latest members the Logan and the Sandero. Renaultsport cars have always held a very good reputation of being the best hot-hatches that money can buy and the Clio R27 is the best hot-hatch in Europe. So lets look at them one by one.
Renaultsport Clio R27
Renault's range of hot superminis has been impressively various. It's not been enough to offer just one version of the fast-revving hatch, but there have been 6 previous editions. This is the seventh, and the first limited-edition to be spun off the excellent Clio 197's mechanicals; meet the R27, or the Renaultsport Clio F1 Team R27.
Essentially, it's a specced-up version of the 197 that was made available in a limited run of 500 cars in the UK, and sold for £17,250. That sounds like a lot for a Clio, but bear in mind that the standard one comes in at £15,995, and this one has £1500-worth of optional kit thrown in, including tinted windows, painted brake callipers, the must-have Recaro bucket seats, 17in anthracite alloy wheels and, of course, Renault F1 Team decals.
Most important of all is what's underneath this Clio. It's got the 197bhp 2.0-litre engine and six-speed manual gearbox as the standard car, but a lower, stiffer chassis set-up replaces the standard Clio 197's suspension. Springs are 27 per cent stiffer at the front, and 30 per cent stiffer at the rear, roll stiffness has been increased by 10 per cent at both ends, the suspension bump-stops have been overhauled, and the whole car rides 7mm closer to the tarmac.
So is it a car transformed? Well no, thankfully, because there's little wrong with the standard 197's chassis. The 197's ideal for fast road use, in fact, its unusually generous wheel travel soaking up bumps and ruts with incredible aplomb. The R27's set-up trades a bit of that wheel travel for added grip and better outright body control. On the track, this Clio is much more composed than the 197; it rolls and pitches less, it works its Michelins harder when cornering, and is generally a slightly quicker, more precise instrument.
Renault Mégane Renaultsport 230 F1 Team R26
It's probably the final incarnation of the Renault Megane 225. Now equipped with a fresh take on the 'Cup' chassis and a tweaked engine producing 227bhp, the R26 also features a limited-slip differential. Acceleration is 6.2sec to 62mph, and it'll now hit 147mph. It replaces the old F1 Team special edition but costs the same, at £19,570. The engine is as willing as ever, with bags of power and torque available from as low as 2000rpm. It revs through to well over 6000rpm, too.
But the revelation is that LSD. The Megane turns in as sharply as, say, the Golf GTI or Focus ST, but where those rivals would wash out with a little understeer under power delivery, the R26 stays planted on whatever line you want to take.
What's even more impressive is that it achieves this without resulting in the sort of torque steer over bumpy surfaces that made the Ford Focus RS so controversial. You can keep a light touch on the wheel in the R26 on roads where you'd have had to hang on for dear life in the RS.
Renault Twingo 133
The latest addition to Renault's Renaultsport line-up. As the name suggests, the hot Twingo has 133bhp under the lid, which adds much needed spice to Renault's smallest hatch. The chassis has had a serious reworking with wider tracks (60mm wider at the front and 59mm at the back), 10mm lower ride height than the Twingo GT on which it is based, thicker anti-roll bars and numerous cosmetic changes including new wider front and rear wings.
The Twingo 133 is also available with a Cup chassis option that has 10 per cent stiffer damping and springing, and an additional 4mm taken off its ride height. Far sportier than the Twingo GT, but given the considerably wider track and 133bhp, that's no surprise. What is good to know is that in Cup guise the Renaultsport Twingo feels special enough to deserve its sporting title.
Sure, the ride is far stiffer than on the standard Twingo 133, but that is unlikely to much bother a 28 year-old who's getting his or her first taste of performance motoring. A little hot hatch should be stiff and lively over the bumps.
The engine revs to 7000rpm and is fitted with the most beautiful set of exhaust manifolds on a car not born in Modena; they also create an entertaining rasp that gives the 133 lots of character. A closer-ratio gearbox would make this car even more fun to drive, but as it is the Cup mods transform the standard car. The steering feels sharper and more direct, and the whole car feels more lively. You also get sexy 17in wheels in the Cup package that look much more the part than the 16in rims on the standard 133. Inside you get plenty of graphics, sports seats with Renaultsport embroidery and a rev counter in front of your nose behind the steering wheel.
Renault Logan (No,Renault sport monicker please)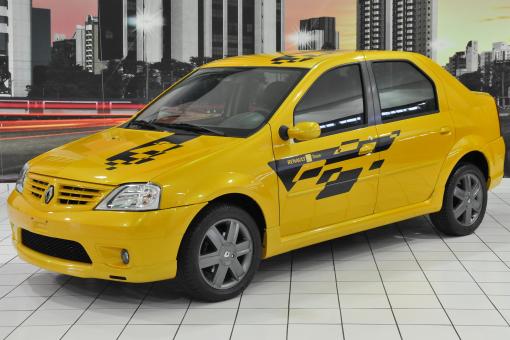 OK. Don't get very excited as this car ain't for India. It's the Logan Sport which will be sold in Brazil. The car it seems will have no changes to it's mechanicals and the differences are purely on its skin.
The Logan Sport gets a 'sporty' yellow paint with black decals running alongside its doors. The bumpers, spoilers and wheels are reported to be new, but the pictures are otherwise. The Renault F1 team badge adds a touch of humor to this otherwise boring looking car. Yup, humor it was compared to the cars mentioned above, this is a misfit and we think it rather tarnishes the Renaultsport badge. The logan comes with a 1.5Dci with 65bhp and a 1.4/1.6 petrol with 75/85bhp . How sporty is that? Sorry Renault, but honestly this car stinks.
Renault Sandero F1
Oh, this is just precious. We have no problem with Renaultsport rolling out F1-themed versions of its hot hatches because, well, they're pretty hot. Some of the hottest hatches around, actually, it's worth re-iterating. But we can't help but feel this is pushing things a little too far.
Renault's Dacia division is supposed to be a budget-oriented, no frills sub-brand. And while F1 may be working on the budget orientation, spec'ing out some low-cost econo-boxes with go-fast bits is a little much. But that's what they're doing at the Sao Paulo auto show soon to kick off in Brazil. To compound the issue, the pair of F1 Team editions of the Dacia Sandero and Dacia Logan receive no mechanical upgrades whatsoever, just a fresh coat of paint and some decals. So while American driving enthusiasts may look longingly at F1 Team editions of the Clio and Megane, this is one we can do without.
Compiled by IAB
Sources : AutocarUK, World Car Fans, Auto Blog, Carwalls, Dieselstation