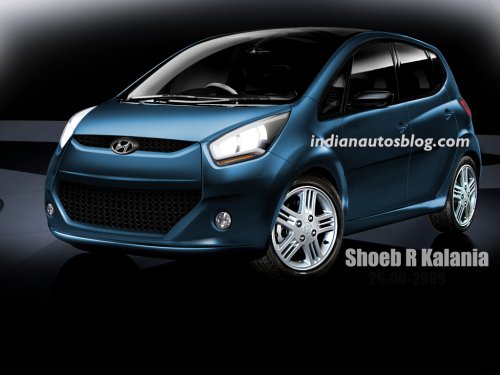 H800 low-cost car project is the most ambitious one Hyundai has undertaken in recent times
Expected to be powered by a new 800cc engine, Hyundai's small car will be directly pitted against variants of the Tata Nano, Suzuki Alto and the upcoming SAIC micro car. The car, according to Business Standard will come with a petrol engine and research and development of the vehicle is being undertaken in Korea.
Hyundai India official -
We are primarily looking at a petrol variant, with a price tag in the range of Rs 2 lakh.
The Hyundai i10 took over as the Korean company's best selling model in India. The Santro is doing decent numbers and it could be that the new small car could end up replacing select variants of the Santro. We cannot rule out the possibility of Hyundai selling both side-by-side.
Our sources inform IAB that a prototype of this new small car could enter real world testing in India as early as mid-2010. The car will be built in the Sriperumbdur factory near Chennai where the Santro, i10, i20, Accent and Verna are being manufactured.
In the past, this small car has been referred to as the public car connoting its easy accessibility to the masses. The 2-lakh price tag has not been revealed in the past and reaching such a low cost target will no doubt be a daunting task for Hyundai.
We believe Hyundai will not restrict this car to just India. Emerging countries China, Russia, Brazil and many other parts of Asia and Africa could see its introduction.
Source - Business Standard