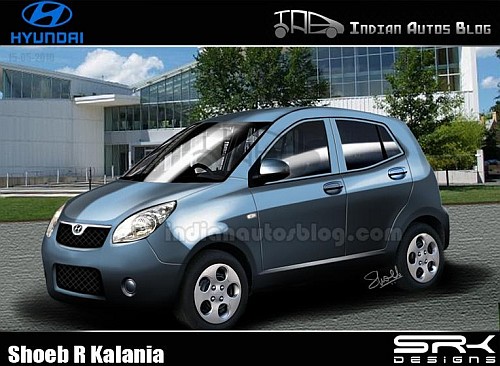 Hyundai's 800cc car (H800/HA for simplification) could take another 1.5 years before it hits the Indian market, a Hyundai official who wished not to be named, revealed today to Economic Times.
Hyundai's unnamed official -
Considering the fact that the car has been designed and developed keeping in mind the Indian market, the next Auto Expo in 2012 will be the ideal platform to unveil the car.
Hyundai, according to our sources, has started testing prototypes of this mini car on the roads of Chennai. The vehicles are heavily camouflaged. Despite all the hiding, it can't but flaunt its close resemblance to the Hyundai i10, which is the smallest hatchback in the Hyundai range in India.
We expect Hyundai to manufacture well over 50,000 cars a month in its Chennai plant in the first year. Demand for a 2.5 lakh rupee car is definitely going to be more than 50k cars a year.
Hyundai could also consider throwing in a LPG tank into this model right from the beginning. It took them some time to transplant LPG tanks into the affordable Santro and Accent. A diesel engine is also a good option but could such a small car take the pounding of a diesel engine? More importantly, will the passengers sitting inside its tiny body shell feel very comfortable? How much refinement can you expect in a low-cost diesel engine?
The diesel engine will bump up its price taking it closer to the i10's territory. Cannibalization and confusion is the last thing Hyundai wants in the small car market that is more a fruit salad than anything else.
The 2012 Auto Expo attracts a lot of people, but that can also work against Hyundai. You don't want to launch a vehicle at that event thinking it'll attract the interest of a million people only to realize on the show days that a Tata, Mahindra, Chevrolet or Suzuki to snatch the thunder. Too many things happen at the Auto Expo and unless you have a groundbreaking car like a Nano, you can't be sure about anything.
Source - Economic Times