Hyundai has launched the Xcent at shocker prices today giving itself a trump-card in the compact sedan segment composed of the Maruti Swift Dzire (currently segment king) and Honda Amaze. Here's a look into their spec sheets.
Hyundai Xcent vs Rivals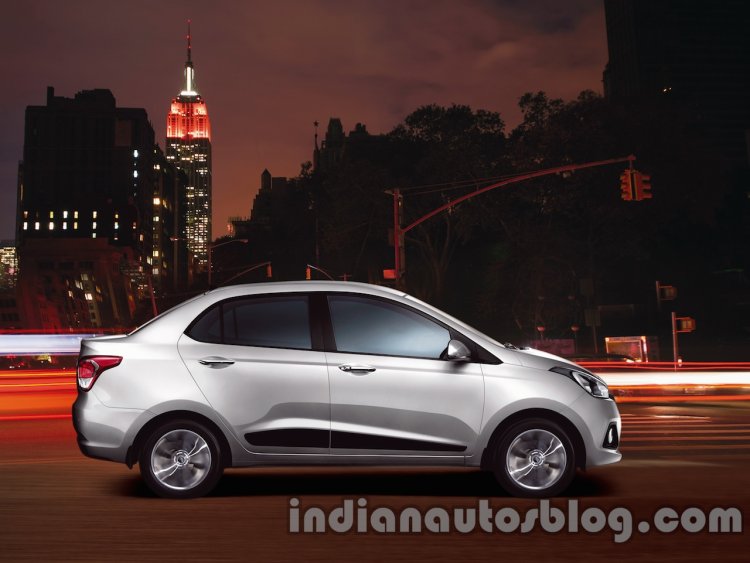 The Xcent is based on the Grand i10's platform, the Dzire on the Swift's platform and the Amaze on the Brio's platform. All three cars measure under 4 meters in length with the Hyundai and Maruti measuring an identical 3,995 mm.
In terms of wheelbase, the Xcent measures 2,425 mm, the Honda at 2,405 mm and the Dzire has the longest wheelbase at 2,430 mm. However, the Amaze is much more spacious than the Dzire thanks to its clever packaging and we will wait until we drive the Xcent to comment about its interior space.
Hyundai Xcent Petrol vs Rivals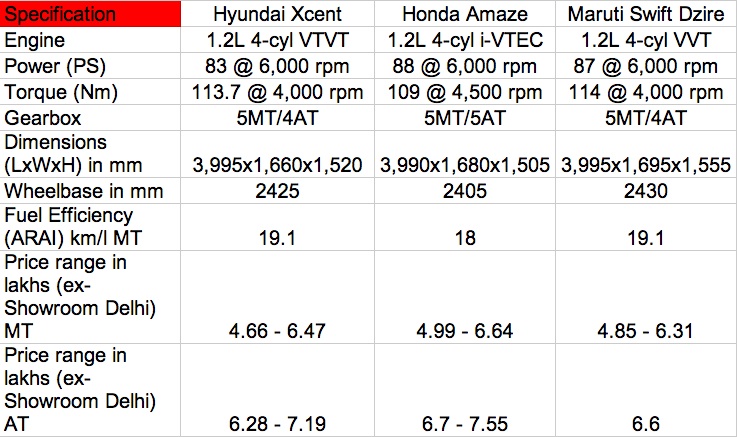 All three cars are powered by a 1.2-liter four-cylinder engine with variable valve timing (Hyundai calls it VTVT, Honda says i-VTEC and Maruti refers to it as VVT). The Amaze makes the most power at 88 PS, while the Xcent and Dzire are nearly matched on torque at about 114 Nm.
All cars are offered with an automatic transmission, with the Amaze being the only one to feature a 5-speed AT. Efficiency wise, the Xcent and Dzire are again evenly matched at 19.1 km/l (ARAI certified for MT). At INR 4.66 lakhs (ex-Showroom, New Delhi), the Xcent undercuts the Dzire by a significant INR 20,000 and the Amaze by a sizable INR 33,000.
Hyundai Xcent Diesel vs Rivals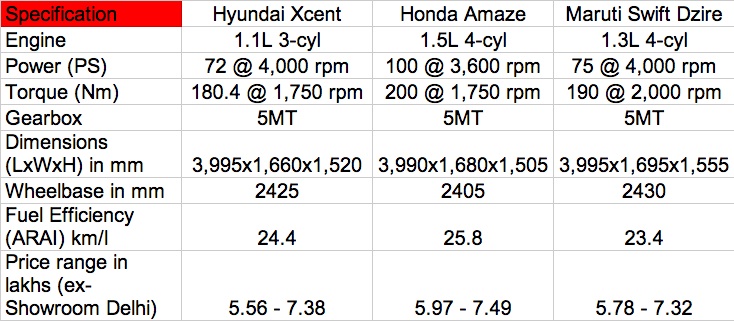 While the Xcent comes with a three-cylinder 1.1-liter engine, its competition uses four-cylinder motors. The Amaze, thanks to its larger displacement, produces the maximum power and torque, while the Xcent and Dzire are nearly neck-and-neck. In terms of efficiency, the Amaze returns 25.8 km/l, the Xcent 24.4 km/l while the Dzire 23.4 km/l.
Again price wise, the Xcent diesel starts at INR 5.56 lakhs which is INR 41,000 cheaper than the Honda and about INR 20,000 below the Maruti. In fact, the base Xcent diesel is priced only INR 57,000 more than a base Amaze petrol!